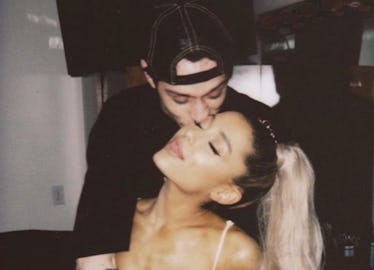 Pete Davidson Opened Up About His Engagement To Ariana Grande & OMG
Ariana Grande on Instagram
Right now, Ariana Grande and Pete Davidson are in a state of mind. And that state of mind is that of a couple engaged because Pete Davidson officially confirmed they're getting married. Pete Davidson's comments about Ariana Grande on The Tonight Show is the confirmation their fans have been waiting for. In an interview with Jimmy Fallon on June 20, Fallon said, "You know, you didn't have to get engaged to Ariana Grande to come on our show." Davidson smiled and responded, "But I did, though," and the audience screamed. There it is, fam! The confirmation we've all been looking for. Ariana Grande and Pete Davidson are actually engaged, and now we have the receipts.
Fallon then said, "You know we love her so much and we love you, too," and Davidson replied, "Yeah, I feel like I won a contest." Honestly, the smile on his face throughout this whole interview is freaking adorable. I love love. Anyways, he showed how excited he was even more when Fallon asked how he was handling everything and the SNL actor responded, "It's f*cking lit, Jimmy." Yeah, Jimmy, don't you know?! According to E! News, Ariana Grande was standing at the side of the stage the whole time while Davidson was doing the interview and she was smiling and clapping the whole time. Robert Pattinson was also there for some reason. Hey Rob! (Just kidding, he was there for good reason. He was the show's guest before Davidson came on to join him.)
Davidson looks straight-up giddy in this entire video.
He hilariously revealed that guys on the streets of New York City (where he and Grande just moved in together) have been tipping their hats to him as he walks by in response to his engagement. One guy, according to Davidson, even came up to him and said, "Yo man, you gave me hope."
You can check out Davidson's full interview here.
While you may have thought Davidson appeared on The Tonight Show purely to gush about Grande (as if he doesn't do enough of that on Instagram), he actually appeared on the show to promote his new film Set It Up on Netflix, but he ended up talking about Grande and Good Time more than the actual movie he was there to promote. Davidson, as you can tell by the shirt he's wearing in the video and his latest Instagram posts, is obsessed with Pattinson's movie, Good Time. Davidson talks up the movie (which is already available for purchase and not even doing press anymore... lol) for about five minutes, and Pattinson chimed in once when Fallon asked who directed it.
At one point, Fallon points out the tattoo Davidson got for Grande and it's hilarious. In case you missed it, Davidson got a tattoo of the bunny ears Grande wears on the cover of the Dangerous Woman album.
Grande and Davidson also have matching cloud tattoos. (The cloud emoji is becoming one of the symbols of Grande's Sweetener era.)
The tattoos are on both of the stars' middle left fingers. These cloud tattoos were revealed the same week fans learned of their relationship in the first place, so things definitely seemed to be moving... a little fast.
But we spoke too soon seeing as by June 11, Davidson and Grande were engaged. They reportedly got engaged a little bit before the news came out, though, seeing as Grande was wearing her massive engagement ring during her Wango Tango performance on June 2.
The photo was a black-and-white shot of Grande sitting on Davidson's lap, their hands on top of each other's, the ring in full view, and the caption said, "u know what you'd dream it be like ? it's better than that." Yeah, they be gettin' married.