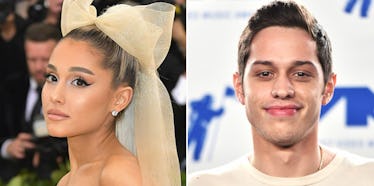 Ariana Grande Has Been Wearing A Huge Ring On THAT Finger All Month & We All Missed It
NEILSON BARNARD/ALBERTO E. RODRIGUEZ/GETTY IMAGES
The internet is shook to its core over the news of Ariana Grande and Pete Davidson's reported engagement. The couple hasn't released any kind of announcement flat-out confirming the news, but it looks like Grande has been wearing an engagement ring for weeks now and no one caught on. Ariana Grande's reported engagement ring from Pete Davidson —if that's what she's actually wearing in the photos and videos we've dug up — is seriously stunning.
News of their engagement first came on June 11. A source told Us Weekly that the couple "are very in love" and plan on having a long engagement. "They are both constantly making each other laugh," the source said. "Their moms have met. They've been very public with their relationship on social media, and they are very in love." Another source said the pair was at Robert Pattinson's birthday party on June 9 and were reportedly telling people at the party that they're engaged. A third source said, "They are a perfect fit. They are not rushing to get married. Their friends are really excited and supportive." Elite Daily reached out to Grande and Davidson's teams for comment on the rumors, but did not hear back by the time of publication.
What's more, Grande might've confirmed her reported engagement to Davidson through the tweets she has liked and responded to since the news broke. Grande went on a Twitter spree on the evening of June 11, liking and responding to a boatload of tweets from her fans. She and Davidson may not have revealed/confirmed the reports of their engagement themselves, but they sure as hell aren't doing anything to deny them.
But we're here to talk about the ring, so let's talk about the ring.
Grande and Davidson attended Kanye West and Kid Cudi's Kids See Ghosts listening party on Friday, June 8.
We know the above photos they posted on Instagram are from the listening party because in an interview with LA radio station REAL 92.3 at the party, Grande was wearing the same outfit she's wearing in the above photos.
Funny we should mention that interview, seeing as Grande's massive ring can be seen in it front-and-center.
It is a huge rock. Don't worry about blinking and missing it because it's too freaking huge to miss.
Do you see it?
Please tell me you see it.
We all see it!!
There's literally no way this isn't an engagement ring. Grande used her jacket sleeve to hide her left hand after she realized the ring was fully exposed and kept her hands covered for the rest of the interview.
Grande performed at the Wango Tango music festival on June 2, and the ring can be seen in those photos as well.
Issa rock!
Let's be real, if we can see this ring clearly in photos taken this far away, issa planet.
Pete Davidson isn't messing around.
Frankie Grande, Ariana's brother, also posted a photo posing with Ariana and their mother to his Instagram and she's definitely wearing the ring.
Fans have embraced Grande and Davidson's happy news and have been tweeting their congratulations to the couple.
Grande herself has been liking and responding to a lot of the tweets, which we're pretty much taking as confirmation of the news. Like I said before, she's doing nothing to deny the reports and these tweets prove it.
One fan tweeted at Grande, "Honest to god our girl is engaged." Grande liked that tweet. Another fan tweeted, "I hope he knows he is maRRYING US AS WELL," and Grande tweeted back, "HAHAHAHAHAHH HES BEEN BRIEFED." Another fan said, "you can always talk to us and trust us. you know that," to which Grande responded, "i know. i love u so f*ckin much. hi. i'm so happy. and excited." One fan also jokingly tweeted, "ariana's wedding would outsell the royal wedding ladies," with a hilarious picture of Steve Harvey, and Grande responded, "sksjsjjsjsjsja stfu."
Suffice this all to say that Ariana Grande and Pete Davidson's engagement seems to be very, very real. And so is her rumored engagement ring.