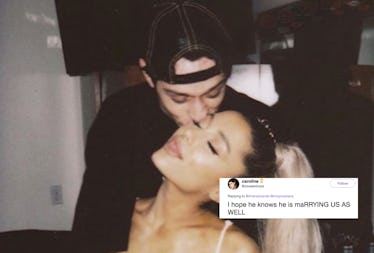 Ariana Grande May Have Just Confirmed Her Engagement To Pete Davidson With These Tweets
Ariana Grande on Instagram/Twitter
Sometimes, I forget how weird the lives of celebrities can get, but then things like Ariana Grande and Pete Davidson getting engaged happen and then I remember. Yeah, Ariana Grande and Pete Davidson are reportedly engaged after less than a month of dating and I honestly don't know which way is up anymore. The news first broke on June 11 when Us Weekly reported that the pair decided to tie the knot, but the couple has yet to officially comment. But did Ariana Grande confirm her engagement to Pete Davidson? It looks like she might have used Twitter to do so.
Grande and Davidson haven't tweeted any kind of official confirmation themselves (Davidson doesn't even have a Twitter, so any kind of announcement on that platform would most likely be joint and from Grande's account), but Grande spent a lot of last night, June 11, liking tweets and replying to fans who were tweeting about the reported engagement. I don't know about you guys, but that seems like a quasi-confirmation to me. Elite Daily reached out to Grande and Davidson's teams for comment when this news was first reported, but did not hear back by the time of publication.
One of the tweets Grande liked said, "Honest to god our girl is engaged." Another tweet Grande liked and responded to said, "I hope he knows he is maRRYING US AS WELL." Grande's response said, "HAHAHAHAHAHH HES BEEN BRIEFED." So... you are getting married? She seriously went on a liking and responding spree, and all of the tweets she reacted to on said spree were about her reported engagement to Davidson. She might not have flat-out said the reports are true, but homegirl clearly isn't doing anything to deny them! Shooketh is too tame a word to describe how I feel right now.
Here are just some of the tweets Grande liked and/or responded to about her reported engagement.
Yeah, I think this is as real as it gets, guys.
News of this reported engagement broke on June 11 when a source revealed the couple's plans to become Mr. and Mrs. to Us Weekly. Another source told the outlet, "They are a perfect fit. They are not rushing to get married. Their friends are really excited and supportive." While they're not telling the whole world just yet, the source revealed that Grande and Davidson attended Robert Pattinson's birthday party together on June 9 and were telling people at the party about their news.
The first source mentioned said this is as serious as can be. "They are both constantly making each other laugh," they said. "Their moms have met. They've been very public with their relationship on social media, and they are very in love." Another source said, "They are looking forward to a very long engagement together." No one's mincing their words here, people. This engagement, no matter how fast it came along, may be the real deal. And guys... she's low-key been wearing a ring on *that* finger all month and we didn't notice.
In an impromptu interview at Kanye West and Kid Cudi's Kids See Ghost listening party on Friday, June 8, Grande is seen wearing a huge ring on her left ring finger.
Do you see that shiny ring on her left hand? While the interviewer didn't say anything about the ring (he didn't seem to notice it), Grande hid her hand in her jacket sleeves after she covered her face. It seems like she realized that she had exposed the ring and was trying to hide it. No one online really noticed this ring (it can also be seen in some of her photos from her Wango Tango performance on June 2), but now that the news has broke, people have been scouring the internet for clues that they were engaged that we might've missed.
You can see a glimpse of the ring in these photos of Ariana Grande performing at Wango Tango on June 2.
See it?! Some fans on Twitter noticed the ring before the news broke, but given the short length of Grande and Davidson's relationship, they thought it was a just a fancy ring Grande was wearing. (Celebs are known to wear extra AF rings that aren't actually engagement rings.) But it turns out their guts might've been right.