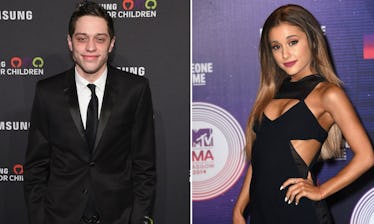 Pete Davidson May Have Just Confirmed His Engagement To Ariana Grande With This Instagram
BRYAN BEDDER/IAN GAVAN/GETTY IMAGES ENTERTAINMENT/GETTY IMAGES
If you are a living, breathing human being, you've probably heard a thing or two in the past few weeks about Ariana Grande and Pete Davidson's recent coupling. They're everywhere! And so in the most unsurprising (but equally exciting) news, the pair has finally confirmed what we pretty much already knew: they're engaged! Aww. Speculation surrounding the duo's whirlwind romance sparked in early May and in the weeks following, Grande's relationship with the Saturday Night Live funny man picked up speed. Fast. And nearly a month after initial whispers of their Instagram flirtation began, Pete Davidson may have confirmed his engagement to Ariana Grande on Instagram.
On Friday, June 15, Davidson posted a black-and-white image of his legs along with what seems to be Grande's legs. You can see their hands as well, and the huge rock on Grande's left ring finger. The caption read, "u know what you'd dream it be like ? it's better than that."
Fresh off respective relationships — Davidson announced that he and longtime girlfriend Cazzie David had called it quits May 16, while Ari released a statement on her Mac Miller break up May 9 — the duo began igniting rumors at an SNL after-party. The meet up fell just three days following Grande's official split revelation and two days before Davidson's. Interesting.
Ever the modern romantics, Davidson and Grande began making subtle statements of their growing love via Instagram. First with what would inevitably become a symbol of their relationship: clouds (it's now all over their IG feeds and tatted on their bodies for, you know, ever). According to Billboard, the "No Tears Left To Cry" songstress exited the momentous after-party sporting a matching cloud-shaped phone case to Davidson, before captioning a dimly lit boomerang two days later with the same emoji. As things picked up in their social media comments (Davidson with plenty of heart eyes and Grande with a "first like" declaration), things quickly became official.
Davidson posted a pic of the pair in matching Harry Potter robes, noting, "The chamber of secrets has been opened ..."
"U tryna slytherin (i'm deleting my account now)," Grande commented back.
Their social media affection only progressed. Grande's first couple shot included a sweet close up of the lovebirds. "i thought you into my life woah ! look at my mind," she wrote. She outed herself as a "Pete Davidson fan account" days later.
Initial rumors of a Grande/Davidson engagement began June 11 when a source for People seemingly confirmed the news:
It's a recent engagement. They're just two people who found love quickly and make each other happy all the time. They both started talking about it this past weekend. It's nothing they've been hiding.
Grande was actually sighted with her reported ring more than a week prior, during a June 2 performance at iHeart Radio's Wango Tango. The reported $93,000 pear-shaped rock was designed by Greg Yuna. "Pete called me at the end of May and said 'Look, I'm getting a ring. This is what I want,'" the NYC-based jewelry revealed to E! "I told him that I had the right ring for him. He didn't tell me who it was for but told me to keep it a secret. He didn't tell me anything about it."
Although the newly minted fiancés held out on an official statement until now, Grande had already hinted at the engagement on Twitter.
"He's been briefed," Grande responded to a fan's comment on Davidson marrying the entire fandom, before acknowledging another that referred to her as "Mrs. Davidson." Looks like she's taken to the title.
While the engagement might feel abrupt to some, the pair is clearly on cloud nine about this next relationship step. I guess when you know, you know. Looks like there really are "no tears left to cry" for Grande, unless they're happy ones that is. Congrats!