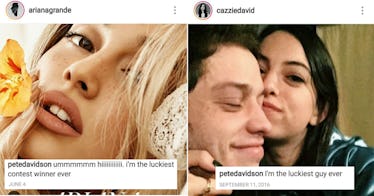 Fans Are Pissed At Pete Davidson For His Comments On Ariana Grande & Cazzie David's Pics
Instagram/ArianaGrande; Instagram/CazzieDavid
Hello, and welcome to the latest installment of what I like to call, "The Clusterf*ck That Is Pete Davidson, Ariana Grande, And Cazzie David's Love Triangle." It's a working title, so don't @ me. As we all know by now, singer Ariana Grande and Saturday Night Live comedian Pete Davidson are engaged after just about a month of dating. And, as we should also be well aware of, the pair got together reeeeeeal quick after breaking off relatively long relationships with their respective partners. Many fans were quick to jump to the newly engaged couple's defense, because hey, when you know, you know, right? But some fans are pretty pissed after seeing that Pete Davidson's comments on Ariana Grande and Cazzie David's photos are startlingly similar, making it seem like something might be slightly off about this new whirlwind romance.
Speculation that Davidson proposed to Grande arose after a report from Us Weekly claimed that the two "were telling people that they're engaged" while celebrating Robert Pattinson's birthday party in Los Angeles on Saturday, June 9. Now, look. One could simply say that those were silly rumors, because there's no WAY that these two could fall head-over-heels in love with each other within weeks of breaking up with their significant others, right? Grande announced she split from Mac Miller after two years of dating on May 9, and Davidson's breakup with longtime girlfriend Cazzie David was announced only days later, on May 16. So it's impossible to fall in love and get engaged so quickly after a serious breakup...right?
Except that's exactly what happened, and Pete Davidson's comments about Ariana Grande as a guest on The Tonight Show on June 20 confirmed that the two were, in fact, getting hitched.
In his interview with Jimmy Fallon on June 20, Fallon said, "You know, you didn't have to get engaged to Ariana Grande to come on our show." Davidson responded, "But I did, though," and HOT DAMN that's confirmation if I've ever heard it:
But let's back up a hot minute here, because if you look at Davidson's ex, Cazzie David's Instagram, you'll see that Pete Davidson was just as shout-from-the-rooftops in love with her as he seemingly is with Ariana Grande.
In fact, fans noticed that Davidson's comments on his ex's Instagram are eerily similar to the things he's been gushing on Ariana's. So, in this essay, I will direct you to the assortment of comments from Davidson to David that bear a striking resemblance to what he's been saying to Grande.
Exhibit A: Davidson proclaiming his endless love for David.
I'm all for some comment-PDA when it comes to relationships, and it seems like Davidson is pretty into it, too. He commented on Cazzie David's Instagram pictures pretty often, expressing his love for his then-girlfriend for the whole world to see.
David uploaded a picture of her and Davidson on her birthday, captioning the pic, "Best bday," and Davidson commented, writing, "I love you so f*cking much 😍😍 happy birthday baby!!":
And Davidson expressed a similar sentiment on a pic from David's Insta, which was a billboard of Davidson's Comedy Central stand-up special, SMD. He wrote,
I love you so much cazz. I'm the luckiest guy in the world and I find new things I love about you every day
But many fans are quick to be like, "Wait, didn't you say these EXACT things to Ariana?," and, TBH, they're not wrong.
One user recently commented on David's picture, writing, "@petedavidson didn't he say that to Ari too," while another user wrote, "@petedavidson Lmao, it's funny how now your saying the exact same thing to ariana grande Ahahahaha."
Fans are connecting the dots and seeing that Davidson's past comments are pretty identical to his present ones with Ariana, and they are not having it.
Exhibit B: Davidson reiterating the fact that he's the "luckiest" to be dating David.
Davidson clearly DID feel like he was incredibly lucky to be dating Cazzie David, and made sure to let her know it. For instance, when she uploaded a picture of the two of them on Instagram, Davidson commented, writing, "I'm a lucky guy indeed":
But one fan responded recently to the older comment, writing, "@petedavidson do you say this to same line to all the girls you date?"
and guess what? That fan is not wrong, because Davidson called himself the "luckiest" to be with Ariana Grande, too:
Mmmmhmmm.
One fan passionately explained just what she found so off-putting about Pete's eerily similar comments, writing, "it seems like too many men do this sh*t. A woman will see past the flaws and help them through their worst times and as soon as they get in a better position they forget who was there for them. We need to stop seeing red flags as 'potentials.'"
That's one opinion on the matter. Some other fans did come to Pete's defense, pointing out that he is only 24 and is certainly allowed to fall in love more than once. One commenter wrote, "he's f***ing 24. Most people that age fall in and out of love with people. Pretty normal human behavior happening right now..."
So, look. Take these receipts and do with them what you'd like. All I'm saying is that Pete Davidson should *probably* step up his comment game, or he's going to get dragged by Ariana's fans for an eternity.