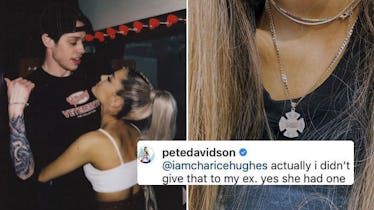 Pete Davidson Just Slammed Rumors He Gave Ariana Grande The Same Necklace As His Ex
Instagram / Pete Davidson
What do Pete Davidson and Ariana Grande have to do to make it clear to you people they are in love and don't care what we think? The newlyweds are catching more heat after Grande was spotted wearing Davidson's late father's New York City Fire Department pendant, specially stamped with the number "8418." According to Davidson, his father Scott was wearing this necklace when he died during the September 11, 2001 attacks in New York City. Now, fans are claiming Davidson re-gifted the pendant to Grande after formerly giving it to his ex, Cazzie David. Pete Davidsons' response to rumors claiming he gave Grande the same necklace as his ex is honestly epic and haters can take a giant step back now.
It's no secret Davidson's father died during his heroic efforts in the terrorist attack. While Davidson has been known to work 9/11 and his father's death into his comedy routines, it doesn't mean it's fair game for public discussion. Alas, trolls took it upon themselves to weigh in on Davidson's personal decision to give Grande the necklace after he posted a picture of it on her neck. One commenter wrote, "it's so ridiculous that he gave it to his ex and said the same thing... smh."
Actually, no. That is incorrect. Davidson chimed in to set the record straight. He responded:
... actually I didn't give that to my ex. yes she had one but it was a replica. i had a bunch of replicas made. my sister and grandpa also have one. the one that ari has is the one my dad actually died in and he wore his entire career and the one i've worn for over 17 years.
According to Davidson, he's personally never taken the original badge off before giving it to his fiancé. He added,
i've actually never taken it off other for SNL or work. So it means a lot to me. hope this helps. please learn to be nicer and not to assume the worst in people. it's a terrible way to live. much love [heart]
Another commenter wrote "no girl should ever wear your dad's chain," which is a weird thing to state given it's nobody's business what Davidson does and does not do with his precious heirloom. But, Davidson was on top of that one too. He replied, "for ur information that's not just some girl, that's my fiancé. She's the greatest person I know. I gave it to her because she has my heart and that is the most precious thing I own. My dad would be so happy and love her so much."
Everyone just chill out, OK?
According to PEOPLE magazine, Grande honors Davidson's late father with the number "8418" tattooed on top of her foot, which also matches Davidson's numerical tat on his arm. The truth is, these two are all the way in on this relationship and have shown nothing but unconditional support and love for each other.
Haters, take a lap now. It's nothing but love, matching tattoos, and sweet Instagram posts here.