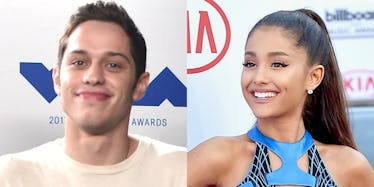 Pete Davidson Called Ariana Grande "The Greatest Person I Know" Because Of This & Aww
Alberto E. Rodriguez/Getty Images Entertainment/Getty Images/David Becker/Getty Images Entertainment/Getty Images
Ariana Grande and Pete Davidson seem to have perfected the whirlwind romance. It wasn't long after their rumored relationship relationship that the couple announced their engagement, and they haven't been shy about expressing their love for each other since then. Even though Grande and Davidson haven't had the longest courtship, they appear to have fallen in love. In a show of commitment to their relationship, Ariana Grande wore Pete Davidson's father's FDNY badge, and Davidson's comment on why he gave it to Grande is so sweet.
In an Instagram post on Saturday, July 14, Davidson shared a photo of Grande wearing his late father's FDNY badge in a pendant with the number 8418 on it. Davidson's father, Scott Davidson, donned that badge number as a New York firefighter; he died on September 11, 2001, as he tried to rescue victims of the terrorist attack. Davidson shared the photo of Grande on Saturday with an emoji-only caption that included a diamond ring, a key, and a shooting star.
It's gestures like this one that make Grande and Davidson's relationship look like the real deal, and Davidson shared why Grande wears the necklace with his father's badge in a comment that replied to criticism about his decision to give it to Grande.
According to Entertainment Tonight, one comment read, "No girl should ever wear your dad's chain. So disrespectful." Davidson immediately shut that down when he explained in his reply why Grande wears the badge as a pendant. Davidson wrote:
For ur information that's not just some girl, that's my fiancé. She's the greatest person I know. I gave it to her because she has my heart and that is the most precious thing I own. My dad would be so happy and love her so much.
Say what you will about their relationship, but it sounds like Davidson is all in and completely in love with Grande. Of course commentary on this courtship that has captured the attention of so many people is to be expected, but I think it's pretty out of line to tell someone what they can or cannot do with their late father's FDNY badge.
Even though the critical comment was unnecessary, it did lead to the heartfelt words from Davidson about Grande. He even called her "the greatest person I know" and confessed that "she has my heart." To really pull at everyone's heartstrings, Davidson added, "My dad would be so happy and love her so much." Grande had her fiancé's back in the comments section when she wrote, "I love u more than anything."
This isn't the first time Grande has acknowledged Davidson's late father. The singer was spotted in late June with an "8418" tattoo, Scott's FDNY badge number, on her left foot. Davidson has long had an "8418" tattoo on his left arm in memory of his father.
Tattoos appear to be one of the pair's love languages, because they have gotten quite a few of them since they've been together as a couple. Grande most recently showed off Davidson's name tattooed on her ring finger on her left hand. In an image posted to Instagram on Friday, July 13, by @nail_swag, Grande's New York-based nail artist, you can see the very tiny "Pete" tattoo on her left hand right under her gorgeous engagement ring. Davidson also has his fair share of tattoos to show his love for Grande, including ink of her Dangerous Woman bunny ears behind his ear and her initials on his thumb.
While the ink is permanent, the couple also made a strong commitment to each other when they got engaged on June 9 after less than a month of dating. The short courtship that led to their engagement definitely shocked fans, but Grande and Davidson seem to keep finding new ways — like sharing heartfelt words on the 'Gram — to prove that their love is real AF.