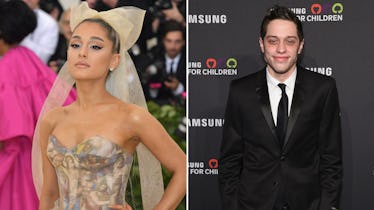 Haters Said Pete Davidson Is "Toxic" For Ariana Grande & His Clapback Was Perfect
Neilson Barnard/Bryan Bedder/Getty Images Entertainment/Getty Images
Have you heard the news that pop queen Ariana Grande and Saturday Night Live comedian Pete Davidson are reportedly dating? And guess what? I LOVE IT and am so here for this match. Of course, not *everyone* is as happy as I am, and some took to social media to express their concerns — few have even gone so far as to call Davidson "toxic" for living with borderline personality disorder. But Pete Davidson's response to haters saying he's "toxic" is so beyond epic, it will make you want to give him a high-five and a hug at the same time.
Last year, Davidson revealed that he was diagnosed with borderline personality disorder, which, according to the National Institute of Mental Health, is described as "a mental illness marked by an ongoing pattern of varying moods, self-image, and behavior," and the symptoms for the disorder "often result in impulsive actions and problems in relationships."
So, when speculation arose that Davidson and Grande were dating, social media trolls commented about how the reported relationship would be impacted in a negative way due to his mental illness. Instead of letting the trolls have their way, though, Davidson took to Instagram on Thursday, May 24, to send his fans a message, and what he had to say was incredibly powerful. On his Instagram story, part of his note read:
normally I wouldn't comment on something like this cause like f*ck you. but i been hearing a lot of "people with bpd can't be in relationships" talk. i just wanna let you know that's not true. just because someone has a mental illness does not mean they can't be happy and in a relationship. it also doesn't mean that person makes the relationship toxic ... i'm simply writing this because i want everone out there who has an illness to know that it's not true and that anyone who says that is ill and full of sh*t ... for all those struggling i want you to know that i love you and i understand you and it is going to be okay.
Can we just talk about how simply yet eloquently Davidson just shut down all of the smack-talk? His words are worthy of a standing ovation, y'all.
It can't be easy to live with a mental illness while in the spotlight, but Davidson's candidness through it all is honestly refreshing. Back in 2016, Davidson checked himself into rehab and, on Marc Maron's WTF podcast in September 2017, talked about the difficulties of adjusting to life after his diagnosis. "I've been having a lot of problems. This whole year has been a f*cking nightmare. This has been the worst year of my life, getting diagnosed with [borderline personality disorder] and trying to figure out how to learn with this and live with this."
He also explained that one of his biggest challenges was trying to cope with the loss of his father, who was a firefighter in the 9/11 terrorist attacks. "My big thing is trust," Davidson said. "One day he was here and the next day he was gone."
BRB, sobbing.
But if anything, his reported relationship with Ariana Grande might be a beacon of light in an otherwise trying time, so who are we to ever judge that? When E! News broke the story on Monday, May 21, that a source close to Grande and Davidson told the outlet that their reported relationship "just started and is casual" and that Grande is "very happy." Elite Daily reached out to both Grande and Davidson's teams for comment on this new report, but did not hear back at the time of publication.
Instead of focusing on the haters, let's focus on sending good vibes to the (possible) new couple. Whoever is a friend of Ariana's is a friend of mine.
You do you, boo!