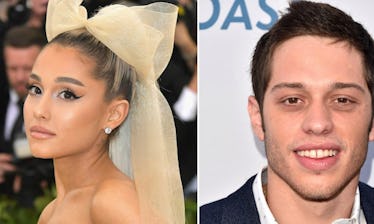 Ariana Grande Just Responded To Pete Davidson's Manchester Attack Joke & She Didn't Like It
NEILSON BARNARD/ALBERTO E. RODRIGUEZ/GETTY IMAGES
Fans were not happy last week when one of Pete Davidson's old jokes about the Manchester bombing suddenly resurfaced. The comedian apparently told the joke — which included a line about how Ariana Grande must be aware of how famous she is because Britney Spears never had a terrorist attack at her concert — before he ever started dating the pop star, but that doesn't make the joke any better. And now Ariana Grande has responded to Pete Davidson's Manchester attack joke, and it turns out she's feeling conflicted.
Twenty-two people — many of them children — died in the horrific terrorist bombing that took place during Grande's concert at the Manchester Arena on May 22, 2017. According to The Mirror, Davidson performed the controversial joke about the attack at The Laugh Factory in Los Angeles about five months later, and, honestly, there's just really no excuse. Now, Grande — who admitted to being both broken and traumatized by the tragedy — has stepped up on Twitter in response to a fan to let us all know how she's feeling about her fiancé right now.
"This has been v tough & conflicting on my heart," she wrote. "He uses comedy to help ppl feel better ab how f-ed up things in this world are. we all deal w trauma differently. I of course didn't find it funny. it was months ago & his intention wasn't/ is never malicious but it was unfortunate."
Her response is super real and totally mature, I just wish Davidson would have stepped up and apologized for himself, instead of letting Grande do it for him, you know? Of course, one of his representatives defended the joke in a statement earlier this week. "He is a comedian," his rep told Metro UK. "No subject is off limits and that includes jokes about his father and 9/11."
It's true. The 24-year-old Saturday Night Live star, who lost his father — a New York firefighter — during the September 11 attack, has been known to include jokes about both his dad and 9/11 in his performances. In fact, Davidson and Grande reportedly bonded over their experiences with tragedies when they first started dating.
"They've both been through hardships, so that's something they definitely have in common," a source told People back when news of the couple's engagement first broke. "They've both dealt with some dark stuff at a young age."
In a recent interview with TIME, Grande opened up about the attack, and about how she is still trying to heal.
"There are so many people who have suffered such loss and pain," she said. "The processing part is going to take forever. I don't want to give it that much power. Something so negative. It's the absolute worst of humanity."
In order to mark the one year anniversary of the tragic event, Grande got a bumblebee tattoo as a tribute to those impacted by the bombing.
The bee has long been a symbol of Manchester's hardworking citizens, and if you look closely during the last few seconds of Grande's "No Tears Left To Cry" music video, you'll see she also included a bee flying away past the camera while she looks up and sings at the sky:
It's a tiny detail, but it means so much, to so many. "Music is supposed to be the safest thing in the world," Grande told Time. "I think that's why it's still so heavy on my heart every single day. I wish there was more that I could fix. You think with time it'll become easier to talk about. Or you'll make peace with it. But every day I wait for that peace to come and it's still very painful."
Hang in there, Ari!