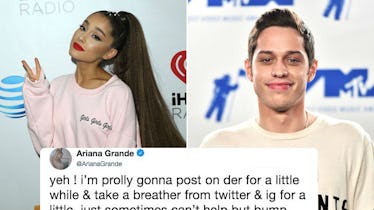 Ariana Grande Is Taking A Break From Instagram Now Too, Because We Can't Have Nice Things
Jesse Grant & Alberto E. Rodriguez/Getty Images Entertainment/Getty Images
Pete Davidson concerned Ari/Pete fans all over when he deleted all of his Instagram posts on July 23. Fans were wondering if him deleting everything from his account meant there was trouble in paradise for him and Grande, but he set the record straight not long after in a post to his Instagram story that detailed his decision to leave the app (at least for the time being). Later that day, Grande announced on Twitter that she's taking a social media fast as well, and the reason why Ariana Grande is taking a break from Instagram is similar to her fiancé's.
Davidson wiped his profile clean after getting heat from some of Grande's fans that he felt was out of place. Grande posted an Instagram of her and her late grandfather on the anniversary of his death on July 23. She captioned it, "miss n love u forever my best friend #4years," and Davidson commented, "omg what a cutie," on the post. Some fans commented back at Davidson saying his comment was inappropriate, showing that they clearly thought he was saying Grande was the cutie. Davidson fired back saying, "are you guys all insane? i was talking about how cute her grandpa is. what's wrong with that? you guys will really look for anything to attack people. it's sad."
Davidson deleted all of his posts not long after, and then posted this message to his Instagram story explaining why.
His post said,
no there's nothing wrong. no nothing happened. no there's nothing cryptic about anything. i just don't wanna be on instagram anymore. or any social media platform. the internet is an evil place and it doesn't make me feel good. why should i spend any time on negative energy when my real life is f*cking lit. the fact that i even have to say this proves my point. i love you all and i'm sure i'll be back at some point. :) your neighborhood goon, pete
Can't blame him for wanting to leave the app. When I first saw Grande's post about her grandfather and then Davidson's comment, it was pretty obvious to me that he was talking about her grandfather. But social media twists things up in negative ways all too frequently, so it's no wonder he decided to take a hiatus. The guy doesn't even have a Twitter account, so this move isn't a surprise.
Grande seemingly responded to the tiff Davidson had with her fans on Twitter.
Her first tweet said, "the energy u put out is exactly what u get back, please create a beautiful life for yourselves," and then she followed up with "anyway." That seemed to be a message from the singer to her fans that they should stop wasting their time on negative energy, which is some sound advice, TBH.
Grande announced shortly after that she is also going to take a break from Instagram and Twitter. These tweets were posted literally minutes after Davidson posted his story about leaving Instagram.
A fan tweeted screenshots of Grande's Snapchat story and said, "moonlightbae has made a return!" out of excitement that Ari had returned to the app, which she doesn't post on as frequently as she used to. Grande responded to the tweet saying,
yeh ! i'm prolly gonna post on der for a little while & take a breather from twitter & ig for a little. just sometimes can't help but bump into some negative s*it that really can bum u out and it's not worth it honestly. promised i'd always tell you. i love u sm ! be well & happy.
Other fans were tweeting about the fact that Grande doesn't promote her new music as much as she used to in the past (but, like, she still posts about her new music a lot so I don't understand where this criticism is coming from). Grande called out this criticism saying that she doesn't promote like she used to because it was unhealthy for her. "It destroyed my mental health and was horrible for me," she said in a tweet. The tweet continued,
i don't remember anything ab those years of my life and am doing so much better now. career wise and health wise. stop coming for me and my team when i've never been better literally in any department. LITERALLY.
Suffice this all to say that it seems like Ariana Grande and Pete Davidson are overwhelmed by social media — their presence on it, their fans' and critics' constant presence, the works. Only time will tell how long their joint break from the apps will last, but considering the fact that Grande's new album Sweetener comes out in less than a month, I think we'll be seeing Instagrams and tweets from Grande sooner than we'll see them from Davidson.