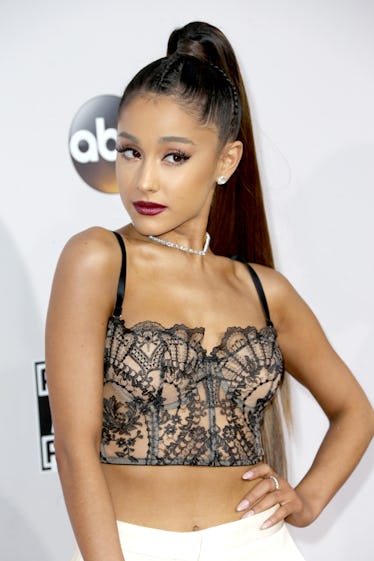 Ariana Grande Just Shared A Photo On Instagram, So I Guess Her Social Media Break Is Over
Frederick M. Brown/Getty Images Entertainment/Getty Images
Ariana Grande and Pete Davidson both announced on Monday, July 23, that they're taking a breather from Instagram. Davidson doesn't have a Twitter account, but in Grande's case, her announcement said she would be taking a break from both Instagram and Twitter — two platforms she's been very active on for the last couple of months. Just one day after announcing her break from the app, Ariana Grande's first Instagram after her social media break is already here, so I guess we should take the word "break" with a grain of salt.
Around 5 p.m. on July 23, just minutes after Davidson deleted all of his Instagram posts and announced his departure from the app, Grande tweeted at a fan saying she was going to take a break as well. The tweet said,
yeh ! i'm prolly gonna post on der for a little while & take a breather from twitter & ig for a little. just sometimes can't help but bump into some negative sh*t that really can bum u out and it's not worth it honestly. promised i'd always tell you. i love u sm ! be well & happy.
Then, the literal next day, Grande posted this mirror selfie to Instagram with the comments disabled.
Her caption was just the crescent moon emoji. Perhaps her Instagram break entailed her just turning off the comments so she could post in peace? We won't know for sure unless she says so, but it definitely doesn't seem like she's actually taking that "breather" from IG.
Davidson has stuck to his break, however. His announcement revealing he was leaving the app was posted to his Instagram story on July 23.
It said,
no there's nothing wrong. no nothing happened. no there's nothing cryptic about anything. i just don't wanna be on instagram anymore. or any social media platform. the internet is an evil place and it doesn't make me feel good. why should i spend any time on negative energy when my real life is f*cking lit. the fact that i even have to say this proves my point. i love you all and i'm sure i'll be back at some point. :) your neighborhood goon, pete
It seems the couple both decided to temporarily call it quits from social media because of how overwhelmingly negative it can be.
Davidson had a particularly heated disagreement with Grande's fans after he commented on a photo Grande posted of her and her late grandfather on the anniversary of his death.
Grande captioned this post "miss n love u forever my best friend #4years."
Davidson commented, "omg what a cutie," and some misinterpreted the comment as Davidson saying Grande was a "cutie" when he actually meant her grandfather. People were replying to Davidson's comment telling him to basically get outta there if he was going to hit on Grande on a sentimental post about her grandfather.
Davidson fired back at the fans, however, commenting, "are you guys all insane? i was talking about how cute her grandpa is. what's wrong with that? you guys will really look for anything to attack people. it's sad."
He deleted all of his posts shortly after, and then Grande disabled her comments and announced her "breather," so maybe her breather was just meant to be a breather from fans' comments and not from posting on the app itself. Either way, Ari's back to posting on both her grid and her story. We'll see how long Davidson's break lasts.