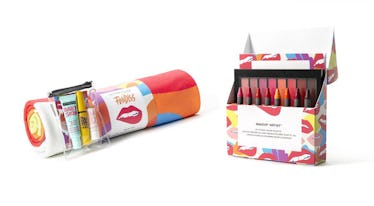 These Maybelline Amazon Prime Day Bundles Are Seriously The Cutest Things You Ever Did See
Maybelline
If you haven't heard, Amazon Prime Day is essentially the Black Friday of the summer season, only better. Just think: It has the same level of amazing bargains and discounts, but the shopping is all online, so you can avoid crowds and scroll through deals at your leisure. Plus, there's the super-fast Amazon Prime shipping — could it get any better? I didn't think so, until I saw the Maybelline Amazon Prime Day Bundles. Now, there is officially nothing more I could want from this sale.
Maybelline's goal with their Amazon Prime Day deal was to make things fun and summer-ready, so they've cleverly dubbed their bundles as "fundles" (fun + bundles), and I'm so into it. The name is sweet, but the deals are even sweeter: We're talking major markdowns on top Maybelline products, like The Nudes Palette and the Baby Skin Instant Pore Eraser Primer, all available in limited edition sets until the sale's end on July 17.
Before I get to the products themselves, can I take a moment to discuss how adorable the fundles packaging is? Cartoon lips and juicy, vibrant colors decorate each set and serve summertime beauty realness. Seriously, even if I wasn't a fan of the beauty products, I might consider stocking up on these bundles for the bonus items alone. Fortunately, though, I'm happy to report that the products inside are just as good.
First up is the Maybelline New York Limited-Edition Fundles Balm-y Day ($18, originally $30, Amazon), which is a total must for Baby Skin fans. From a product standpoint, you've got the Baby Skin Instant Pore Eraser Primer, the Baby Lips Dr Rescue Medicated Lip Balm in the summery shade "Coral Crave," and the Volum' Express The Colossal Washable Mascara in the shade "Glam Black." The whole gorgeous skin/lush lashes/coral lippie combo is what beach day dreams are made of, which is probably why the set comes with a circular beach blanket to complete the ~vibe~.
If you're not exactly a beach lover, maybe you spend your summer focusing on your creative streak instead? Maybelline's got you covered, yet again. The Maybelline New York Limited-Edition Fundles Makeup Artist ($12, originally $20, Amazon) includes the Lip Studio Lip Color Palette, the Eyestudio Master Precise All Day Liquid Eyeliner, eight crayons, and an adult coloring book. This kit is essential for any makeup-artist-turned-actual-artist, or anyone who likes coloring to relieve stress (ahem, me). This combo also doubles as the cutest back-to-school gift I've ever seen, FWIW.
The Maybelline New York Limited-Edition Fundles Send Nudes ($12, originally $20, Amazon) forgoes the bright packaging that the rest of the bundles have, but I'm willing to forgive the exception thanks to that wildly cute name. Rather than send nudes, send yourself this kit and receive The Nudes Eyeshadow Palette, a Color Sensational Vivid Hot Lacquer Lip Gloss in the shade "Charmer," and a Venus de Milo-printed foldable nylon tote bag.
If you're as into these kits as I am, might I suggest you act fast — the Amazon Prime Day sale ends soon, and these bundles are selling like hot cakes. In fact, the Maybelline New York Limited-Edition Fundles Instant Glow-Up ($15, originally $26, Amazon) has already sold out, which means it won't be long until the others are gone as well.
With that said, go forth and stock up on all your summer makeup must-haves with these and more Amazon Prime Day summer beauty deals. The time for great savings and glam makeup is now!