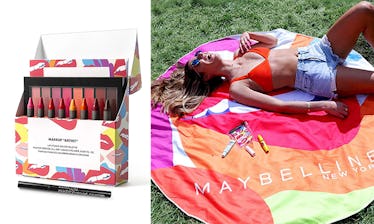 Maybelline Is Dropping Makeup Sets With Crayons & They're Like Adult Summer Camp In A Box
Courtesy of Maybelline New York
I'm a super sentimental person. Chatting about the days when Ashlee Simpson's Autobiography album played on repeat the summer before my first year of high school and recreating outfits from my teen years is the quickest way to give me all the feels. I still have a Caboodles case full of cheap jewelry, old hair clips, and an empty bottle of Tommy Girl perfume tucked away in my old closet at my parents house. Aside from old CDs and sentimental junk I hoard, there are now Maybelline makeup kits to give me the nostalgia I crave so badly.
When I was eight years old, a little movie called The Parent Trap changed everything I thought I knew about summer. While Lindsay Lohan was busy totally tricking me into thinking she was a real twin, I couldn't shake the concept of sleepaway camp. I'd been a regular at summer camp for years, but my parents picked me up at the end of the day, every day. But it was especially the scene where the girls are playing poker, and the stakes are raised by glittery blue nail polish, scrunchies, claw clips, and juicy lip glosses that gets me every time. My moment of taking an entire summer off, playing late-night poker in a girl's-only cabin, and swimming in a lake without having to worry about finding a bathing suit that flatters my body type has completely passed. It's too late for me to experience the ultimate teenage summer, but these Maybelline New York's "Summer Fundles" are making me feel like a kid out of school again.
If I was playing a game of high-stakes poker, and somebody threw in a pair of transparent red, frameless sunglasses on the table, I'd risk everything to try to get my hands on them. Luckily for me though, Maybelline New York's Fundles Instant Glow-Up Kit ($24; Amazon), comes with the sunnies, no bartering required. The set comes in the cutest hard-shell case and is packed with the essentials: Just add a dab of Master Chrome Highlighter in Molten Gold on your cheekbones, swipe on the SuperStay Matte Ink Liquid Lipstick in Pioneer on your kisser, and pop on the colorful sunnies for a look that will carry you through summer in style.
Speaking of swimming in a lake, there's nothing like wrapping yourself in a cute towel afterwards (plus, now that camera phones are a thing, it makes for an adorable Instagram). Maybelline New York's Fundles Balm-y Day Kit ($29; Amazon) is packed with everything you need to get the perfect summer-camp pic. From the lip-print round beach towel to the Baby Lips Lip Balm in Dr. Rescue Coral Crave, The Colossal Volum' Express Mascara, and Baby Skin Instant Pore Eraser, this is literally everything you need to make you followers give you a double tap.
If you were the girl at summer camp who always carried around a sketchbook and a glitter pencil box full of crayons, brace yourself. Maybelline New York's Fundles Makeup Artist Kit ($20; Amazon) is a literal box of crayons packed with an eight-shade Lip Studio Lip Color Palette, Master Precise Liquid Eyeliner for drawing (get it?) the perfect cat eye, plus a crayon kit with colors to match the shades of the palette, which are perfect for filling in your meme-filled coloring book.
If you're excited as I am to throw it back to the time when there were two Lindsay Lohans and blue glitter nail polish was a legit form of currency, Maybelline's got you covered. All these kits will be available exclusively on Amazon Prime beginning June 25.