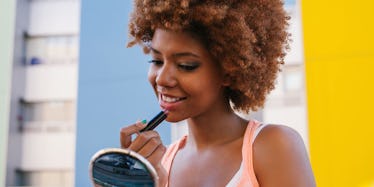 The Only Makeup Products You Need For An Effortless Summer Glow
Summer beauty is all about looking effortlessly glowy, sun-kissed and, well, like a natural beauty. To nobody's surprise, effortless natural beauty isn't an #IWokeUpLikeThis look for most of us. (I know I'm not alone when I say I wake up to dark circles, redness and a rat's nest on top of my head.)
And while I have mad respect for Alicia Keys' no makeup pledge, I won't be ditching my makeup bag anytime soon. That said, summer beauty can be easy, and I'm not talking 25-products, 60-minutes-in-front-of-the-vanity kind of "easy."
I'm talking all-this-stuff-fits-in-your-clutch easy, and it should only take 15 to 20 minutes. That's less time than it takes me to stagger out of bed in the morning.
Let's get started:
1. Cover-Up
Bare Minerals Complexion Rescue Tinted Hydrating Gel Cream, $30, Sephora
Unless you were blessed with skin as clear and even as a Snapchat filter, you're probably going to want to use some kind of makeup product to help neutralize any redness, discoloration or unevenness in your skin.
The trick here is to use something that has just enough coverage to create an even base, but not so much that your skin is completely covered. Your skin should be visible through whatever base you choose. My personal favorite is Bare Minerals Complexion Rescue Tinted Hydrating Gel Cream because it's buildable and blends seamlessly into my skin.
The coverage is sheer enough that I can still see my freckles, and it doesn't cake when I add coverage to my redder areas. The gel formula delivers skin-plumping hydration, and the finish is naturally radiant, like your skin looks right after you moisturize. Even better? This formula packs SPF 30, so your touch-ups will also keep your skin protected while you're out enjoying the sun.
If you want to repurpose your full-coverage foundation, start off by using half a pump (or just half of what you typically use) and dot it over the areas that need the most coverage, keeping everything else bare. Bounce a damp beauty blender over the foundation to blend, and then bounce the remaining product on the beauty blender over the rest of your face to even everything out.
Most full-coverage foundations don't have SPF, so be sure to layer one underneath. (I wear SPF 50 under my base regardless of if it contains SPF.)
2. Concealer
NYX Gotcha Covered Concealer, $6, Ulta 
Concealer is an essential in my makeup bag due to my aforementioned breakouts and dark circles. If you're happy with how your skin looks after applying your tinted moisturizer or foundation, skip this step. If you need some extra coverage, run, don't walk, to get this waterproof concealer from NYX.
This concealer is a recent favorite of mine, proving itself worthy of a spot in my bag due to its ability to withstand my sweatiest spin class. The tiniest amount delivers high coverage, the formula does not crease and the shade range is impressive.
To correct dark circles, squeeze the smallest amount (the size of the tiny tops on a seamstress's pins) onto the back of your hand. Use your middle or ring finger to move the product around on the back of your hand. This will help warm the concealer and make it easier to blend on your face. Tap your finger on a clean part of the back of your hand once or twice to remove any excess, and then gently pat under the eyes directly over where you see the discoloration.
Once the product is placed, use a clean finger to pat around the edges and blend with the foundation or tinted moisturizer.
To cover a breakout, you'll need even less product. Warm it up as specified above, and just tap the product over the very center of the blemish.  Use a clean finger to pat around the edges of the blemish to blend the concealer into the foundation or tinted moisturizer.
3. Cream Blush
MILK Makeup Lip + Cheek, $24, Sephora 
Cream blush is your best friend for natural makeup looks, and Milk Makeup's Lip + Cheek stick blends like an absolute dream. Swirl your finger over the product, and pat onto the apples of your cheeks for a youthful, healthy glow.
Then, swipe the leftover product onto the center of your lips to create an ombre popsicle lip effect. The lip color will just fade away toward the outer edge of your lips, which gives a more youthful and more natural look than a lipliner and lipstick combo will.
4. Powder
Make Up For Ever Pro Bronze Fusion Bronzer, $36, Sephora 
The only powder I'm going to recommend for this look is a powder bronzer, and it's completely optional (as is everything in makeup). If you tend to keep your face out of the sun, you're going to have to fake that sun-kissed look that is synonymous with summer.
I personally like to use powder products to do this because I find them easier to control than liquid bronzers. My favorite is the Make Up For Ever Pro Bronze Fusion Bronzer because of the shade range and unique gel powder formula that stays put like a powder, but blends like a gel (or in other words, wizardry).
Grab your powder brush (something large and fluffy), pick up a  small amount of product and dust it over your cheeks, forehead and bridge of your nose to create a sun-kissed glow. For a more affordable bronzer option, check out the Physician's Formula Butter Bronzer, but note that the shade range is incredibly small.
Physician's Formula Butter Bronzer, $15, Ulta 
Bronzer is also a great multipurpose item. You can run it under your lower lashline and in your crease to subtly define your eyes and make them pop.
5. Highlighter
COVER FX Custom Enhancer Drops, $42, Sephora 
It would be blasphemous not to include a highlighter in this list, and I think I — along with the rest of the beauty community — have just discovered the best highlight of all time. Thank you, Cover FX.
Its new Custom Enhancer Drops have a wide shade range that includes both warm and cool tones to suit many skin tones, and it can be patted over tinted moisturizer for an intense strobing effect. Or, it can be mixed in with skincare products to create a subtle glow.
For an effortless summer look, I recommend patting this on your cheekbones before you apply your tinted moisturizer for a lit-from-within look. Don't worry, this formula packs a punch, so it will still glow through your blush and bronzer.
You can always add more intensity by tapping a little more over top of your blush. The formula dries down to a powder-like finish, so it won't feel tacky or sticky. This is also another great multipurpose item. Tap any leftover product in the center of your eyelid to catch the light and give a wide-eyed appearance.
6. Mascara
I'm just going to put it out there that I hate waterproof mascara.  And yet every summer, I buy a new one because it's the only kind of mascara that doesn't end up all over my face after a day at the beach.
Mascara is a deeply personal decision, so if your favorite non-waterproof version comes in a waterproof formula, give it a try. I have been using the Fusion Beauty XXL Extreme Volume Lash Enhancing Mascara, and I love the length and the definition two coats gives me. The spoolie also comes to a precise point, so if you feel so inclined, you can smudge some along your lashline, a la Kylie Jenner.
So, go ahead and pick up five or six of these products for a gorgeous and effortless summer beauty routine.