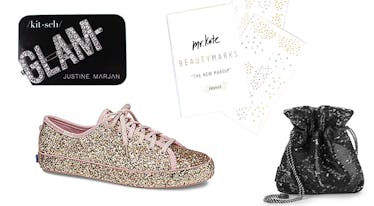 These 13 New Year's Eve Accessories Will Make You Sparkle Brighter Than The Times Square Ball
Kitsch; Keds; Mr. Kate; Walmart
I feel like every single year I find myself frantically shopping for a new outfit in the name of a cute New Year's Eve look — for some reason, my current closet never seems to cut it, and I always feel a last-minute desire to be the sparkliest one in the room, giving any potential disco balls a run for their money. This year, though, I'm forbidding myself from buying that sequined blazer or blouse I know I'll never wear again, and instead I'll be getting my glitter on via reasonably-priced accessories. If you, too, don't want to break the bank shopping for a one-night-only look, I highly recommend any of these 13 New Year's Eve 2018 accessories, most of which are so cute, you'll definitely want to re-wear them throughout 2019.
First things first: every good NYE outfit needs a little sparkle. If you're not necessarily one to don a fully sequined dress, accessories are the perfect way to get your glitz on, so to speak. This Metallic Fanny Pack ($20, bershka.com) has just a little edge to it, and it comes with an adjustable waist strap so that you can make sure you get the perfect fit.
Arguably my top pick for this year's NYE is a statement hair accessory, in particular this Kitsch X Justine Marjan Glam Rhinestone Bobby Pin ($30, mykitsch.com). I definitely want to go into the new year sending out positive vibes, and what better way than to proudly proclaim (via my hairdo) that 2019 will be a glam year? Other word barrette options on the site include "Feelings," "Drippin," and "Damn." Will you be dripping feelings in 2019? Will you be so damn glam? Let your hair foreshadow it.
If you're into the idea of hair accessories but don't want to let your 'do do the talking, The Beachwaver Co. Beachwaver Hair Cuff ($12, beachwaver.com) in "Solid Gold" is another great option. Sleek and simple, it's a tiny flash of metallic to keep things festive, but not too over the top.
Party hopping this New Year's? Maybe your headgear should be more about staying warm when traveling from place to place. This Sequin Beanie ($20, zara.com) is the perfect combination of style and warmth, and you can totally keep it on when you get inside as part of your ensemble. It gives me very chic Rainbow Fish scale vibes, and that's a high compliment.
Like I said, staying warm is key! This A New Day Women's Faux Fur Jacket ($40, target.com) is a great investment for New Year's Eve as well as all the future cold-weather 2019 parties to come. The pop of burgundy is especially good for anyone who tends to stick with a monochrome all-black-everything look, as it provides a moment of color without taking you too far out of your comfort zone.
If a full-on jacket is too much, might I interest you in a Faux Fur Animal Print Scarf ($40, zara.com)? Something about a fur stole is so glam, and therefore so NYE-appropriate. Leopard is a huge trend this winter, too, so this is basically a partygoer's perfect piece. Plus, it feels like you're wearing a hug, which is totally an acceptable replacement for a New Year's kiss, right? Right?
Somewhere in between beauty and accessories, there lives a happy medium product known as Mr. Kate BeautyMarks Freckles ($14, shop.mrkate.com). These temporary tattoo metallic freckles are such an unexpected way to rock some sparkle at New Year's celebrations, and they come pre-arranged into constellations of freckles, so you don't have to individually apply them dot by dot.
As a wee high schooler, I remember struggling to find a cute silver shoe to wear with my homecoming and prom dresses. If only the UO Piper Thin Strappy Heel ($49, urbanoutfitters.com) had been an option for me back then! This understated silver shoe has a low enough heel to be comfortable, yet enough class to make it the perfect finishing touch to a fancy night-out ensemble.
Not a heels person? TBH, I don't blame you. I highly recommend opting for the Keds X Kate Spade Kickstart All Over Glitter ($90, keds.com) — no, they aren't cheap, but after getting tons of compliments on your NYE footwear, you'll likely find yourself rocking them as often as possible in 2019, so they're still a worthy investment. This pair features gold glitter uppers with pink lining and glitter laces, and in addition to stepping up your sparkle game, you'll be way more comfortable than your friends that opted for stilettos.
Let's talk jewelry! These Topshop Christmas Sequin Link Drop Earrings ($22, topshop.com) are so festive and chic, and the unique shape is a fun way to stand out in a sea of girls wearing gold hoops. (No shade — I'm probably going to be one of the girls wearing gold hoops.)
Speaking of gold, can we talk about how ex$pensive this SUGARFIX by BaubleBar Chic Statement Necklace ($20, target.com) looks? The gold knots along this chain are both elegant and playful, and if you're looking for a piece that can be worn on its own or paired with other necklaces for a layered look, this one's a great pick.
When it comes to going-out looks, the Kardashian-Jenner clan are my go-to source for inspiration. Considering I don't have that Kardashian schmoney, though, I often turn to the very cute, very affordable Kendall + Kylie for Walmart line. In fact, their Small Pouch Crossbody With Black & Silver Sequins ($19, walmart.com) is one of my top picks for purses this holiday season, as it's small and chic but still special and sparkly.
Last but certainly not least, a NYE accessory for anyone opting to stay in, snuggle, and watch the ball drop from the comfort of a couch: the BP. Giaa Faux Fur Slipper ($30, nordstrom.com), a cozy night in must-have. These fuzzy slipper slides come in fuchsia, black, charcoal, and even leopard print, and they're the perfect way to spice up your holiday jammies when celebrating New Year's at home.