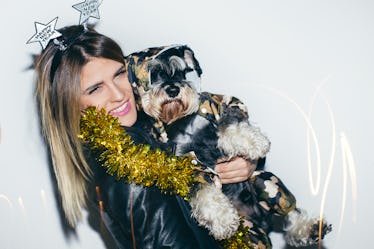 5 Cute Things To Do At Home This New Year's Eve With Your Furry Friend
New Year's Eve is a time to celebrate the memories you've made this past year, and cheers to the ones to come. Some people enjoy going all-out. I'm talking dancing the night away in confetti showers at a club or bar, and of course, a champagne toast at midnight. But, you're looking forward to getting comfy and spending quality time with your fur baby. And just because you're staying in doesn't mean there aren't fun things to do at home this New Year's Eve with your pup.
You don't need to brave the cold as you venture to a crowded bar with your friends in order to have fun. In fact, you can still have an epic New Year's Eve in your cozy PJs and fluffy slippers, with your furry friend right by your side. You want to spend the last day of the year with the one friend who always brings you so much joy, so obviously, that's your dog.
If you and your pooch need a little inspiration when organizing your New Year's Eve game plan, I'm here to help you out. Here are five things you can do together that will ensure you both have the most amazing Fur Year's Eve ever.