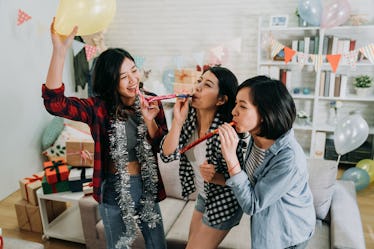 7 Best New Year's Eve Plans To Make When You're So Over The Crowded Bar Scene
In the past, you've gotten all dressed up in a sparkly outfit on New Year's Eve, and braved the cold to hit up a crowded bar with friends. You toasted at midnight, then headed back home where your cozy PJs were waiting for you. (Hallelujah!) Don't get me wrong, you loved every minute of the celebrating, but you've done it many times before. Now, you're looking for the best things to do on New Year's Eve without going out.
Instead of navigating your way through crowds of people just to get your flute of champagne, celebrate in a more laid-back setting. You can pop your own bottle at a cozy Airbnb with your SO, or at your own private rooftop party gazing at the stars. You can still dance the night away, but instead of rocking those cute heels that your feet may regret later on, you can opt for going barefoot or wearing an adorable pair of fluffy slippers. For the rest of your end of the year plans, you want to be as cozy as possible.
If you need some inspiration on what to do this NYE, let me help you with a few ideas. As a cozy queen myself, I'm all about having fun and staying in. So, bring on the comfy vibes, because you're starting this new year the best way you can.