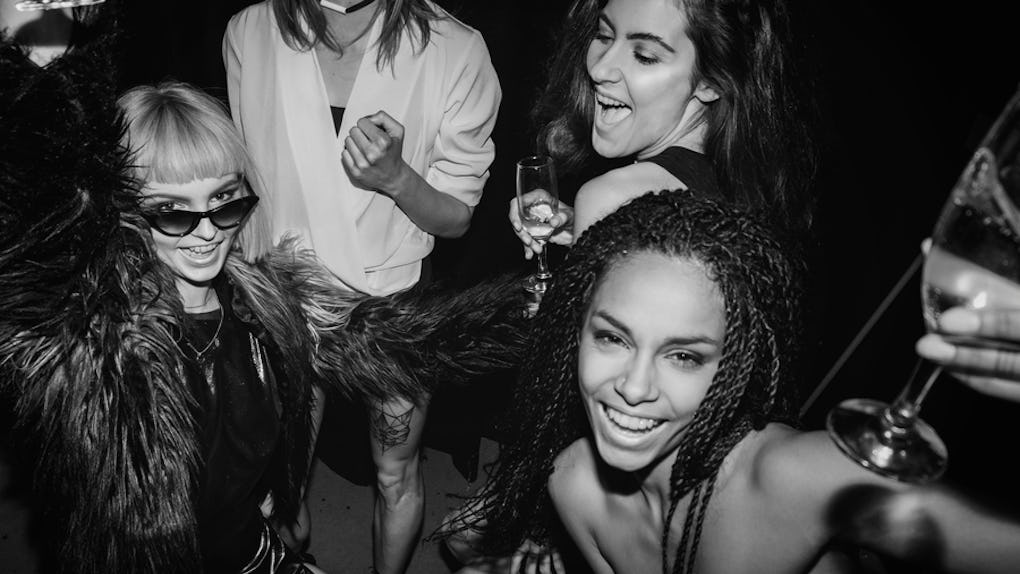 Audrey Shtecinjo / Stocksy
7 Last-Minute Things To Do On New Year's Eve With Your Best Friend
We're oh-so close to New Year's Eve, you can just taste the champagne in the air and hear the kazoos and fireworks as if they're right there. There's always the question of what you're going to do on this big night. Are you going to some grand party or concert? Are you celebrating with friends or family? Will you find a person to share your New Year's Eve kiss with? All relevant, but also kind of stressful. This is, of course, especially true if you have nothing planned. But, there are so many last-minute things to do on New Year's Eve. Grab your best friend and do something fun; spontaneity is just as awesome as planning can be at times.
Some parties and clubs charge a lot of money for at-the-door tickets or host huge parties that require tickets in advance (and are also expensive), so doing something other than what's hyped up can sometimes be the best thing. Also, if you're with your bestie, you could be doing anything this New Year's and it'll blow any other plan out of the water. But if you want that "anything" to be something other than sitting on the couch, we've got you covered (although, sitting on the couch can be fabulously enjoyable).
1. Head Out To See Holiday Lights
Something my family and I do every single New Year's Eve is go to the holiday lights at the zoo. It's not something that we do at midnight, but it's a great thing to do, and you can still get home in enough time to warm up for a toast before midnight strikes.
This plan is a great way to say goodbye to the holiday season and the past year while sipping hot chocolate and seeing some impressive light shows. While not every zoo will hold something like this, there are usually light displays somewhere in your city, even if it's driving to one of those crazy neighborhoods that have highly impressive lights, it'll do the same trick.
2. Watch The Ball Drop From Your Home
While I did say this list would have other things to do other than sitting on the couch, it is still a thing you can do at a moment's notice. Last minute, if you two decide your heels and dresses aren't worth the effort, you can call it quits and drink wine and champagne from the comfort of your living room. Reflect on that past year, think up some goals for 2018, and talk about some of your best friendship moments from 2017 -- and gossip, maybe just a little.
3. Go On A Walk Through Your Neighborhood At Midnight
Have you ever gone outside, or opened a window right at midnight? I have, and since I'm in a big city, I can hear a chorus of shouting and "Happy New Year's!"... and it's actually really cool.
You and your bestie can get your hats and parkas on, have some mulled wine before you head out, and take a stroll through right at 11:56 p.m. (or so), and do a form of people watching (or hearing?) from afar. Of course, don't put your safety at risk, but if you feel comfortable doing this, it's such a low-key thing to do and quite memorable.
4. See Some Fireworks
This is something you can do at literally the last second. There should be some sort of firework display happening at midnight in your town or city and doesn't require anything from you but to bundle up. You also don't need to be right there by it, just somewhere that offers a good view of it. We're never too old for fireworks.
5. Hit Up The Town
You can still definitely go out on New Year's Eve, even if you don't have concrete decisions to do so yet. It's something you can decide that day and give yourself a couple hours (give or take) to get ready and go! There are going to be plenty of bars and clubs that don't need reservations or tickets to get into and you can go ring in 2018 with your best friend in the most perfect way possible -- by dancing!
6. Get Tickets For That Movie You've Been Wanting To See
Much like with the holiday lights, you can go see a movie before the ball drops at midnight. There are a ton of good ones still out right now and some possible Oscar contenders, even. Netflix is cool, but sometimes going to the cinema is a fun way to feel like you're doing something but takes minimal effort. And, again, you can plan it so that you're home in time to welcome midnight (or sleep through it, if that's more you and your best friend's style). Don't forget the buttery popcorn and chocolate!
7. Dine At A New Restaurant
Eating a late dinner is very European and also a fun way to ring in 2018. Of course, you don't want to eat too close to midnight (for both your benefit and for the people working their butts off on New Year's Eve), so making a reservation for 9 p.m. or so (if the restaurant's hours coincide) should work. This way, you can sip some nice wine while having great conversation over a delicious dinner with your best friend. Spending time with your person is a prime way to celebrate the end of 2017 and the beginning of a, hopefully, fabulous 2018.