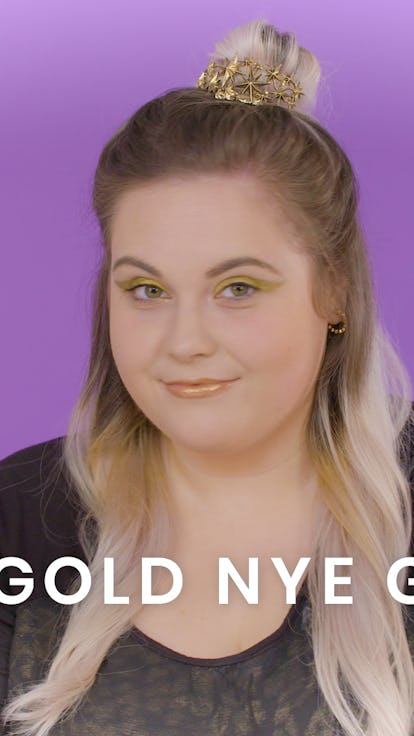 This Glam NYE Makeup Tutorial Will Seriously Have You Ready In 5 Minutes — We Timed It
Elite Daily Video
Show of hands for how many of you reading this think doing a full face of makeup and styling your hair in five minutes is a complete sham. Oh, all of you? Well, I can't blame you. I was one of you. For so long, I laughed at the prospect of getting anything other than my mascara done in five minutes. However, I've now made it my personal mission to prove both myself and all of you wrong. Enter: Elite Daily's newest feature, Ready In 5. Consisting of actually cool beauty tutorials, this series will break timely beauty looks down into five simple steps, all of which, together, can actually be completed in five minutes, so you have more time to focus on the plans that come next.
When it comes to getting your glam on for New Year's Eve, tell me if this sounds familiar: You spend several hours perfecting your hair and makeup to the point where it's nearly midnight and you're still not ready yet. You go through all the trouble of painstakingly placing glitter all over your face in all the right places, only for it to end up literally everywhere except your face. Well, this year, ditch this plan, and I'll do you one better.
For this installment of Ready In 5, I'll be ringing in an easy New Year's Eve makeup tutorial featuring a quick, all-gold beat that's fresh, festive, and will actually stay on all night. Believe it or not, I've tackled every step from skin prep to complexion, to eyes, to lips and even to hair. And I promise I'll get you ready to go in just five minutes — no, for real, I timed it — leaving you with more than enough time to throw on your party dress and scoot out the door.
Read on to learn everything you need to know to make this gilded glam happen. The Times Square Ball may be dropping, but this look does not drop the ball when it comes to being cute, quick, and easy.
Step 1: Prep
Time: ~40 seconds
First thing's first, you'll want to prep your face using whatever products make you feel confident in your skin the fastest — whether that's some moisturizer and a little concealer or a full-coverage foundation. (If you like going bare-faced, that's awesome! Skip this step.) A pro-tip to making this step go by faster: Reach for a product that's multi-purpose, like a moisturizing foundation.
On myself, I chose to use IT Cosmetics' Bye Bye Foundation Full Coverage Tinted Moisturizer ($40, IT Cosmetics). It has all the properties of a regular moisturizer, but with built-in, full-coverage pigment, so you kill two birds with one stone. Not to mention, this baby also boasts SPF 50 for ultimate sun protection. Consider that three birds.
Start by pumping a little foundation onto the back of your hand; dip a Beautyblender or foundation brush into that foundation, and begin applying the foundation all over your face relatively quickly. Make sure to blend into your neck as well.
As an added step here, I pumped a bit of Marc Jacobs Beauty Dew Drops Coconut Gel Highlighter ($44, Marc Jacobs Beauty) into my foundation mix. This will give your face an all-over glow, essentially eliminating the need for extra highlighter. (Of course, if, like me, your personal mission is to shine brighter than the sun, glitter, fluorescent lights, etc., then feel free to use both.)
Step 2: Complexion
Time: ~40 seconds
All right, the next step focuses on setting your complexion. You know, so it'll actually last well past midnight on New Year's Eve — no matter what you've got going on (*wink wink*).
For this portion, I dipped a large, fluffy makeup brush into Huda Beauty's Easy Bake Loose Powder ($34, Huda Beauty), tapped the excess powder off the brush, and dusted the product all over my face, focusing more under my eyes to prevent and reduce under-eye creasing.
Next, to give my complexion some color and dimension, I tapped the same fluffy brush into Wet n Wild's Color Icon Bronzer ($5, Wet n Wild), again, tapping off excess product. Then, I dusted bronzer along the hollows of my cheeks, along my jawline, on my temples, and on either side of the bridge of my nose.
At this point, if you wanted to add a little extra sparkle to your cheekbones, this is where you'd do it. I recommend trying Fenty Beauty's Matchstix Shimmer Skinstick in Blonde ($25, Fenty Beauty), NYX Cosmetics' Born To Glow Liquid Illuminator in Pure Gold ($6, NYX Cosmetics), or Kaja's Mochi Glow Bouncy Highlighter in Stardust ($19, Sephora). A cream stick, a liquid, and a powder formula, respectively, these picks will quickly give you a major glow-up, no matter what your preferred finish is.
Step 3: Eyes
Time: ~90 seconds
OK, here's where you need to really concentrate, people. This is a pretty bold eye look to be done in, like, 40 seconds, and it can go very wrong very quickly if you're not too careful. For the first eye-focused step, I poured a teeny bit of MAC Cosmetics' Gold Pigment ($22, MAC Cosmetics) into the cap of the pigment's jar. I then dipped an angled eyeshadow brush in the gold pigment, tapped off any excess (are you sensing a tapping theme here?), and got to work on the outline of the eye look.
First, with the angled brush, I drew a wing from the outer corner of my eye out toward my temple, loosely continuing the shape of my waterline. Then, I started another line from the inner corner of my eye, following the shape the upper part of my eyelid. I also made sure to connect the ends of each line. This essentially gives you the shape of an eyeliner wing, except it's one that takes up your whole eyelid.
Now, if you're particularly into the whole ~negative space~ beauty trend, you could stop here on the eyeshadow and still have a funky geometric look. However, if your life motto is a resounding "go big or go home" (hard same), you can take a flat eyeshadow brush and fill in the outline you just made with the same gold pigment. Who's a walking brick of gold? You are.
Once you gild both your eyes in the finest gold, you'll want to finish off your eye look with a few coats of your favorite mascara. It's totally up to you on which mascara you reach for here, but for reference, I went with Urban Decay's Perversion Mascara ($24, Urban Decay), which boasts a big, fat, fluffy wand for loads of volume.
Step 4: Lips
Time: ~10 seconds
All right, here's where you can breathe a (very brief) sigh of relief because this next step is the easiest one: lips. All you need to do is pucker up and quickly swipe on a gold lip gloss or lipstick of your choice. I went with Jouer Cosmetics' Long-Wear Lip Topper in Molten Gold ($16, Jouer Cosmetics) because of the creamy, shimmery formula and excellent color payoff.
Step 5: Hair
Time: ~80 seconds
OK, fam, stay with me here because we are in the home stretch, and there's a light at the end of the tunnel that looks suspiciously like the Times Square Ball. When it comes to your hair, remember, perfection is not the objective here. You don't need to look like a prim, polished British royal. It's OK to have some stray flyaways. And it's OK for the look to be a little lopsided. That's what gives it character.
For the last step, you'll style your hair into a half-up, half-down bun. To do this, section off half of your hair by putting your fingers at the tops of your ears and dragging them up along the crown of your head. Then, twist the section of hair you just created around itself until it coils into the shape of a bun. Either use a ponytail holder or a couple bobby pins to secure it in place.
Finally, incorporating a hair accessory is a quick, simple way to add some ~glam~ to your hair. In other words, a sparkly accessory can make it look like you spent ages doing your hair, when you actually did it in 80-ish seconds. A half-up, half-down bun is the perfect style for a 3-D barrette or hair pin, like Kitsch's Star Bun Pin ($9, Amazon), which slides seamlessly right under a bun and stays put on its own.
At last, there you have it! A NYE glam worth its weight in gold that 1) you can wear throughout the holiday season, and 2) literally took just five minutes to create. If you have extra time to spare, you can play up this look even more, perhaps by patting MAC's Yellow Gold Glitter ($22, MAC Cosmetics) on your lips and packing a ton of BECCA Cosmetics' Light Chaser Highlighter in Topaz flashes Gilt ($17, BECCA Cosmetics) on your cheekbones and collarbones. The sky's the limit here, you guys. Your only objective is to glimmer like a brick of gold in five minutes. You got this.
So, how does that sound? Still don't believe me that both I and a non-beauty editor can get this look done in five minutes? Hey, I get it. Seeing is believing and whatever. So, in the spirit of giving, I present to you proof that miracles really can happen: the #ReadyIn5Challenge.
In this challenge-tutorial hybrid, I'll take you and another Elite Daily editor through the steps and products needed to complete the look as we both race against the clock. It's thrilling. It's suspenseful. But most importantly, it's funny AF to watch. Get comfy, and follow along with the video below to see if we actually get ready in five. Comment on the video or DM me on Instagram to suggest looks you'd like to see broken down in the future: