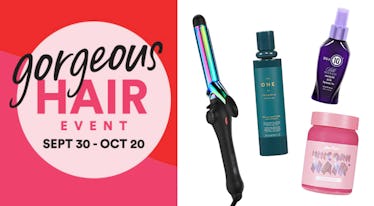 Ulta's Latest Sale Has 20 Straight Days Of Huge Hair Care Deals, So Tell Your Friends RN
I don't know why Ulta has felt the need to shower us with so many blessings recently, but believe me when I say I'm not complaining. After offering major deals on skincare, hair care, cosmetics and the like during their 21 Days of Beauty Sale as well as their Fall Haul event, the company is back at it again, this time serving up savings specific to all our hair care needs. The Ulta Gorgeous Hair Event promises twenty consecutive days of discounted products and tools, and I already know I'll be making twenty consecutive purchases, because your girl can't resist a good sale.
I'm serious when I say Ulta has been more than good to us over the past few months. Their massive 21 Days of Beauty Sale gave me the chance to stock up on all my must-have products, and the Fall Haul sale event that followed almost immediately after was the perfect excuse for me to pick up a few new items I'd been wanting to try. Admittedly, I focused mostly on skincare and makeup items during these sales, purely because both can get pretty pricey without discounts, so the fact that this latest sale caters solely to hair care products and tools is just one more reason why I should partake. (Pls don't try to convince me otherwise.)
Happening from September 30 through October 20, the Gorgeous Hair Event offers new discounts on select items every single day. These deals, called daily beauty steals, will apply whether you're shopping in-store or online, although there will also be additional secret beauty steals available in-store only for every Friday of the three-week event. You can view the entire savings lineup on their website so you know what to shop each day, but the gist is that every day, there will be discounts on three products or lines from Ulta's best hair brands, and the items will vary from curling wands and dry shampoos to hair dyes and strengthening supplements. There's quite a bit of variety, so people with all different hair types and preferences can focus in on the deals that suit them best.
It's time to get our strands hair-flip-ready, people!
What will I be picking up? OMG, you're like, so sweet to ask. It just so happens that one of my favorite lines, Frederick Fekkai's The One, is part of today's beauty steal, so I'm mid-purchase as we speak. One of the October 2 offers is 50 percent off The One by Frederick Fekkai starter kits, and I can't recommend them enough. If you've got color-treated hair, The Brilliant One Color-Care Introductory Kit ($15, originally $29, Ulta) is the perfect pick for you. I happen to have the products in my shower at this very moment. If you're already dreading the damage fall and winter weather can wreak on your hair, it might be worth your while to stock up on The Ultimate One Restorative Introductory Kit ($15, originally $29, Ulta) in advance of the changing seasons.
Already set on shampoos, conditioners, and the like? Maybe you'll be more curious in my taste in hot tools. There are two curlers in particular catching my eye during this sale, the first being the Conair Infiniti Pro 1'' Rainbow Titanium Curling Iron ($15, originally $29, Ulta) which will be available for 50 percent off on October 5. I have similar tools already, but something about that rainbow finish makes me feel like I need this one, too, and I can't fight it. My other pick is the InStyler AIRLESS Blowout Revolving Styler ($63, originally $125, Ulta) which will be 50 percent off on October 10. TBH, I've never seen a hair tool like this, as it's some sort of unique blow-dryer-meets-round-brush brainchild. I wouldn't normally drop over $100 to try out something I wasn't sure about, but the major discount is tempting me to pick this up and see what it's all about.
Rounding out my top picks are some more miscellaneous products, including texture tamers and even hair dyes. Since my hair is balayaged, I've been known to dabble in the occasional semi-permanent color change every now and again. Usually, these shade shifts are brought on by an urge for a particular color, but I feel like I would pick from the Lime Crime Unicorn Hair Semi-Permanent Hair Color Tints ($8, originally $16, Ulta) based purely on the shade names alone. Iconic colors like "Sext," "Salad," and "Gargoyle" will be available for 50 percent off on October 6, and I'll probably be picking up more than one. My other product must-have will inevitably be something from the It's A 10 brand's Silk Collection, which will close out the sale at 50 percent off on October 20. Their Silk Express Miracle Silk Smoothing Balm ($10, originally $21, Ulta) is one of my favorites for taming frizz — plus, it doubles as a heat protectant.
As each day's new savings begin, those from the previous day are gone for good, so scan the entire list of discounts on the Ulta site now and set reminders accordingly thorughout the next three weeks, that way you won't have FOMO about any of these amazing deals.