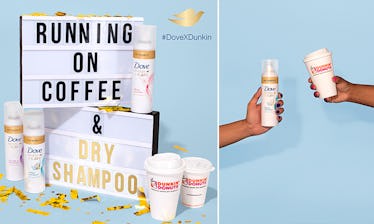 If You'd Rather Not Exist Without Coffee & Dry Shampoo, This Super Cute Collab Is For You
Courtesy of Dove & Dunkin' Donuts
How many times have you relied on dry shampoo to skip yet another wash? Would you say that's happened more or less than the times you've loaded up on the coffee to get you through the day? Because busy peeps can't live without either one, this Dunkin' Donuts x Dove Popup is about to become a one-stop shop for your morning pick-me-up. The hair care brand, Dove is teaming up with the iconic donut shop with arguably the best coffee, Dunkin' to host an activation on Oct. 1 to celebrate women who always run on coffee and dry shampoo.
Stop by the #DoveXDunkin Styling Café at the Flatiron Plaza in New York City from 7 a.m. to 3 p.m. on Monday, Oct. 1 and you'll receive a free small Dunkin' Donuts coffee (you can even choose between iced or hot options) and enjoy a complimentary mini-styling appointment using Dove Dry Shampoo ($5; target.com) to cleanse and refresh hair (so, basically you can go another day without washing!). Attendees will also have access to exclusive giveaways, including the super cute #DoveXDunkin tote bags, hair ties, and travel cups. But this is a while-supplies-last situation, so mark your calendars and get ready to head on over for some cute merch and even cuter hair.
In case you're wondering why the unlikely duo teamed up on this super cute collaboration, it's actually an awww-inducing saga. "Social media has exploded with women sharing how coffee and dry shampoo are their secrets to getting up, out and on with their day...taking them from the gym, to the carpool, to the board room," says Piyush Jain, Vice President of Haircare for Unilever. "We're excited to bring together this unlikely but perfect pairing in a surprising collaboration between Dunkin' Donuts and Dove Dry Shampoo." But also, who doesn't love coffee and dry shampoo?
And because Sept. 29, or as we prefer to call it, National Coffee Day can't go unnoticed, Dunkin' wants you to celebrate with them. Customers who purchases a hot coffee will get a second one free (of equal or lesser value) as a gift to share with members of their girl gang, because behind every great woman is another woman cheering her on with coffee.
If you're not located in NYC or you just can't make it out to the Flatiron Plaza on Oct. 1, don't worry, you still have the opportunity to win some really cool stuff, Dove and Dunkin' are encouraging women to share why they run on coffee and dry shampoo for the chance to win the ultimate life hack — a year's supply of Dunkin' coffee and Dove Dry Shampoo! To enter the sweepstakes, submit a photo of your busy morning and tell them why you run on Dunkin' coffee and Dove dry shampoo, using the hashtags #DoveXDunkin and #DxDSweepstakes on Instagram and Twitter. You can also submit your photo on www.DoveXDunkin.com.
Entries are open now through November 8, so surely you have enough time to get the right pic.