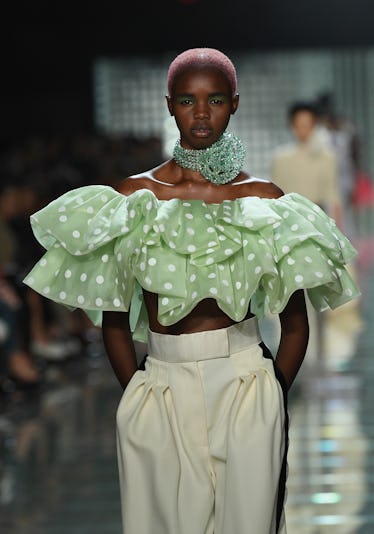 Colorful Pastel Hair Is Still Cool For Fall So Go Ahead & Lighten Up A Bit
Slaven Vlasic/Getty Images Entertainment/Getty Images
If you're looking for a way to contrast those plum lips, glittery eyes, and heavy knits you'll whipping out soon for fall, look no further than the pastel hair trend. Having just dominated New York Fashion Week on the streets and runways alike, it's set to be the coolest new beauty look of the season. Whether you want to go a faded peppermint pink or have more of a periwinkle blue in mind, read on below to get some major inspiration.
Yes, pinks and greens and lavenders and yellows are typically reserved for warm weather months when it comes to beauty and fashion trends alike. But this fall, all of the rules are being broken when it comes to "appropriate" colors (how are colors designated to seasons, anyways?) seeing as pastel is trending in all forms. Pastel denim, pastel dresses, pastel eyeshadow, pastel jackets — no matter how you want to wear the super soft hue through the gray days to come, it'll be stylish. On the fall 2018 runways of Céline, Victoria Beckham, Preen, and Hermès, ice creamy hues reigned supreme and signaled a shift in what was to come for this winter. Clearly, the fashion industry took note and pulled out its most colorful stops.
Street style stars showed up in droves sporting pastel pink hair, in particular. Some dyed their entire head the hue, while others integrated it into their natural color via braids, highlights, ombré, and dip dyes.
Marc Jacobs' spring 2019 runway, though, championed pastel hair in the most awesome of ways by turning the heads of 37 models who walked in the show into shades of light blue, purple, green, and pink. From rose gold and faded flamingo to frosty ice and dusty lilac, the hues were all kinds ethereal, whimsical and fairylike.
Famed hairstylist Guido Palau and Redken Global Color Creative Director Josh Wood were behind the radical styles and colors, which required the models to actually bleach their hair and have dye put in. These looks weren't achieved via spray-in or temporary dyes — this was the real deal.
"Marc didn't want a 'fun' pastel, he wanted it to have history and for it to look a little vintage," Wood announced backstage as reported by Elle, before then calling the shades "almost like grown-up pastels" and "slightly anti-unicorn hair."
Is it surprising that so many models agreed to have their hair color radically changed just for a fashion show? Yes. But seeing as they likely knew it would turn out this well, can you blame them? As Wood mused, social media probably also played a role: "There's so many images everywhere of people having color and changing color. Bleaching isn't like it was even two or three years ago...technology supports the fact that the most important thing to us is hair health."
If you want to try out this look but you're not down to bleach your hair (I totally understand), try reaching for a semi-permanent dye that'll let you experience unicorn locks for a few days max. I guarantee you'll feel magical.