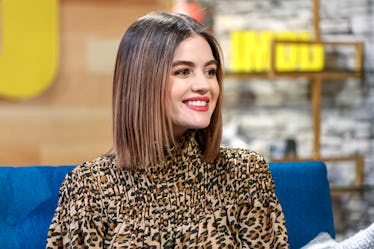 Lucy Hale Just Made A Shocking Hair Change For $12 & I'm Obsessed With The Results
Rich Polk/Getty Images Entertainment/Getty Images
When I was in college, I tried out multiple vibrant hair colors, with different shades of blush finding their way into my hair on a few different occasions. It always faded pretty quickly so I haven't tried out the hue post-grad, but after seeing photos of Lucy Hale's pink hair I have the itch to go complete My Little Pony again.
To backtrack, I tried out a slew decidedly unnatural hues between the ages of 18 and 21. I had a silvery lilac with deep gray undertones, a hot pink ombré (this was when it was cool, okay?), and an über light cotton candy pink. I was obsessed with all of the shades immediately upon having them revealed to me in the salon mirror but after a few weeks they all faded into duller, less punchy versions of themselves, no matter what color-saving products I tried. I was bummed, to say the least, but then I read an article (that I now cannot find) about how Harley Viera Newton would add pink Manic Panic hair dye into her conditioner to get a slightly rosy, very natural-looking tint and it was the answer to my prayers. If you have light hair and want a super subtle addition of pigment, try it out. It'll wash out when you stop using it for a few weeks so no commitment is necessary.
Since my stint with the tinted conditioner, I haven't tried out pink in my hair. But considering celebrities including Hailey Baldwin, Kim Kardashian, and now Lucy Hale have rocked different variations of color as of late, it might be time to try it out once more.
In a post uploaded to her Instagram account, Lucy Hale is pictured with her signature shoulder-grazing blunt bob, which has been given a gorgeous rose gold treatment. "Pink you very much 🌸 complete Aria vibes," Hale captioned the photo, referring to when her character on Pretty Little Liars also rocked fuchsia strands in her hair. Paired with matching glittery eyeshadow and a peachy pout, the new color looks like the things fairy princess dreams are made of.
The most surprising part, however, is that the color isn't permanent. The color was achieved by by using Kristin Ess's Rose Gold Temporary Tint spray, which you can buy for $12 at Target. The ultimate beauty deal of the century? I think so. All you have to do is spray the pastel tint on your wet, post-shower hair and then rinse it out. Et voila! A gorgeous new shade is yours. It'll wash out in one to three shampoos, meaning it's even less of a commitment than Manic Panic.
I remember using various tinted sprays and colors in my hair in middle school to try and get rainbow locks but they always left my hair looking crunchy, oily, or some other undesirable texture. This, however, leaves hair looking like, well, hair! Just a more technicolor version of it. The fact that the spray works on brown hair is also impressive, although the product's description does say it works best on highlighted or pre-lightened hair. On my light blonde locks, it would undoubtedly look even more intense and would satisfy all my college-era hair dreams without having to undergo bleach damage.
Hale debuted the look just in time to give Coachella-goers some major beauty inspiration. Sunset colored locks in a sun soaked desert? Sounds ultra dreamy. It'll be interested to see whether or not Hale continues to embrace the trend on occasion, although I hope the answer to that is yes. Sherbet hair looks too good on her to only indulge in once.