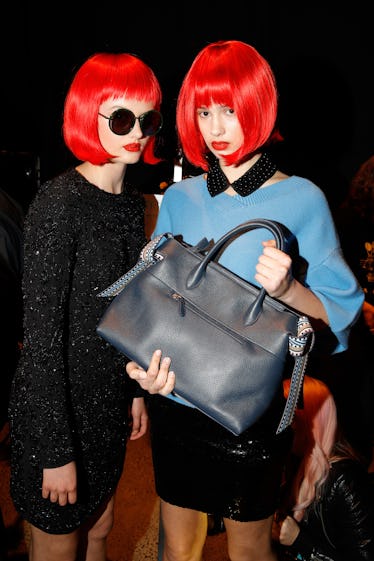 These Are The Hottest Fantasy Hair Colors For Fall, According To Top Stylists
Michael Ng/Getty Images Entertainment/Getty Images
With the fall season making its official debut in just a few weeks, you'll be pleased to know that you don't have to swap out the light and bright fantasy colors you were probably rocking all summer long. Yes, fall 2018 fantasy hair color trends have are popping up in full force. Even in 2017, everything from pumpkin spice ombre hair to pastels to butterscotch blonde were popular looks. However, this year, many hair experts are saying that darker, richer shades are the way to go — but of course, that doesn't mean you can't infuse your favorite fantasy colors into that 'do.
"Whatever color you have you'll want to add dimension and contrast to, but in a very natural and gradual way," celebrity hairstylist Rita Hazan tells Elite Daily, adding that the right shade can even help you keep your summer glow. "Richer shades work well with darker fall clothes and makeup, it also can give the complexion some life even if you aren't as tan as were during the summer."
But if you're ready to totally switch things up, Rebecca Hiele, an international artist at Goldwell suggests going for coppers, browns, deep blondes, and reds. "These four modern color stories are totally on trend and relate to fall Pantone 2018 and this season's fashion color palette," she says.
Deep Blonde
Start with a base of deep blonde and opt for strategic infusions of neon fantasy colors, like DJ Duo Simi & Haze.
Copper
If you're not ready for a full-on red look, a light copper is the perfect starter-shade for your strands.
Bright Red
If you are ready for full-on red, starting with a deeper red at your roots and melting into a brighter red at your ends will add tons of visual interest to your look.
Brown With A Twist
Rich browns are always in and pair perfectly with some fantastical highlights to spice up your mane.
Now, while there are a lot of women who love to have a little fun with their locks once the seasons change, most of us with natural hair have to do our due diligence when it comes to researching what's safe for our textures before we can enjoy all the colors of the seasons. Thankfully, the experts over at DevaCurl not only have some suggestions on what fall shades look great on curly hair, but also how to keep your kinks healthy and hydrated as the air starts to get drier in the colder months.
"As fall approaches I think the trend is heading toward the red-violet hair colors, with more specific interest in violet," senior stylist Vida Latimer explains. "Last year, I felt the trend was more true red and hints of auburn but with more of an accent on the red."
But the stylist also warns that for curly girls, hair dye can cause a change in the curl pattern. "Doing any kind of extreme color, far away from your natural color, is always going to change the curl pattern to some extent," she says. "You have to understand color comes with maintaining the health of your hair."
Latimer suggests both using a regular conditioner, as well as doing weekly deep conditioning treatments, like Deva Curl's Heaven In Hair and Melt Into Moisture, on wash day. "It might be 30 minutes or more depending on what you did with the color," she says. "Curly hair is already missing moisture and with color you are taking some of that away. You have to put it back and deep conditioning will help that how much and how often depends on how extreme you went with the color."
So if your hair is prepped and ready for a seasonal color change, definitely head down to your favorite salon and have some fun with your locks before fall approaches!