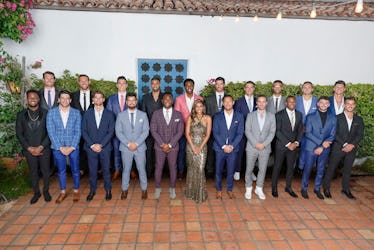 Twitter Is Calling Tayshia's Final 4 The Best In 'Bachelorette' History
ABC/Craig Sjodin
Season 16 of The Bachelorette has been anything but ordinary. From a change in venue to a change in Bachelorette mid-season, it's been a season to remember. And the tweets about Tayshia's final four on The Bachelorette prove the bar has been raised for future seasons. As she heads into hometowns, it looks like Tayshia's going to have a hard time narrowing it down between the remaining contestants.
During the Dec. 14 episode, Taysha had to cut her list of guys in half. With eight contestants left fighting for her love, at lot of hearts were broken before the final four were selected. After she said goodbye to Blake, Riley, Noah, and Bennett, however, fans were living for Tayshia's remaining contestants: Brendan, Zac, Ivan, and Ben.
All of the guys this season had their own experiences connecting with Tayshia, but each of the final four had truly monumental moments with the Bachelorette. Without travel opportunities or elaborate dates, the contestants had more of a chance to get deep and open up. This, in turn, helped Tayshia (and the rest of Bachelor Nation) get to know the guys on a whole different level. And from the look of Twitter, everyone loves what they've seen.
While some fans were just excited to see some great guys chosen, others were already picking favorites and rooting for a winner.
The group includes frontrunners Brendan and Zac, both of whom Tayshia built strong connections with right off the bat. Then, of course, there's Ivan, who Tayshia had an intense talk about race in the Nov. 24 episode, which was groundbreaking for the franchise and made him another fan-favorite.
While Ben has been more of a slow burn, after multiple weeks of letting Tayshia in, he won her (and the rest of Bachelor Nation) over. He talked about his experiences with eating disorders and mental health, which were more important moments for the franchise.
Whichever guy ends up getting Tayshia's final rose, it really seems like she can't go wrong with such amazing contestants.
Season 16 of The Bachelorette continues on Tuesday, Dec. 15, at 8 p.m. ET on ABC.