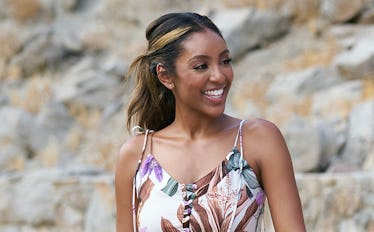 Tayshia's Hometown Date Elimination Was So Painful To Watch
ABC/Craig Sjodin
Season 16 of The Bachelorette has been anything but ordinary. With some of the most honest conversations ever aired in the franchise and lots of great guys, fans are sad to see Season 16 come to a close. But as Tayshia Adams gets closer to a potential proposal, she's having to say goodbye to more and more fan-faves. So, who goes home on Week 10 of The Bachelorette? Tayshia's list of suitors is quickly being whittled down as she tries to find ~the one.~
The Dec. 14 episode was part rose ceremony, part "Men Tell All," which means there was even more drama and heartbreak than usual. At the start of the ep, with eight guys left on the show and only four able to go through to hometowns, Tayshia had a lot of really hard decisions that needed to be made really quickly. Unfortunately for the guys, after weeks of not-so-dramatic eliminations, things got messy.
First, Blake finally got his 1-on-1 date with Tayshia, during which they got their crystals read. After being asked to disrobe (for the millionth time this season) and staring into each other's eyes/souls, Tayshia got the clarity she needed to end things not only with him, but with another contestant as well.
After sending Blake home, she returned to the guys' quarters and asked to speak with Riley. During their chat, she told him their connection developed too late, and they weren't in a place where she felt comfortable meeting his family. Even though she was obviously sad about it, she sent him home.
Heading into the rose ceremony, Brendan, Noah, Ivan, Zac, and Bennett (who was actually eliminated in Week 9 but came back and got another chance after telling Tayshia he loved her) were on the chopping block. Ben, who opened up during his 1-on-1 the previous week, already had a rose and was safe.
Despite everything the pair had fought over, the ceremony ended with both Noah and Bennett both being sent home, leaving Ben, Brendan, Ivan, and Zac to introduce Tayshia to their families. After one of the most interesting hometown episodes (the guys had to create dates centered around their cities since travel was out of the picture), Tayshia had to eliminate one of the final four contestants. And unfortunately for Ben, after freezing up post-date, things weren't looking good.
Even though Tayshia said she was falling for all of the guys, she knew she had to send one of them home. And while Ben had a moment of clarity when talking with family friend Antonia (yup, from Top Chef), he clammed up and didn't tell Tayshia he was in love with her.
From the look of things, he should have said how he felt. Tayshia didn't give him a rose at the ceremony, and afterward, when the two sat outside to talk, Ben appeared shell-shocked. "I'll be alright. I'm always alright," he told her. "I'm heartbroken, but I'll be alright."
If you can see through your tears, get ready to watch how Tayshia's journey ends when Part 1 of the Season 16 The Bachelorette finale starts on Monday, Dec. 21, at 8 p.m. ET on ABC.