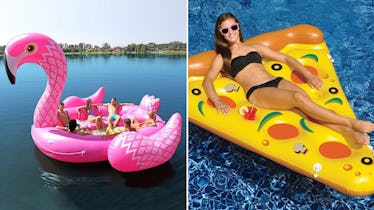 The Pool Float You Need For This Summer, According To Your Zodiac Sign
Sam's Club/Amazon
I know we're only creeping our way into spring at this point, but I can't help but break out the bikinis and all the sunscreen in hopes that the sunniest season of the year comes a little bit sooner. When the days are longer, you can spend hours with your feet soaked in the sand and surf — and maybe have a bonfire on the beach with your besties, too. Seriously, aside from the ocean, we can't get enough s'mores and those sweet nights of making memories. You've prepped the marshmallows, and maybe a polaroid camera, too. But the pool float you need for this summer has been picked out by the stars, and you'll want to take the universe's cues for an unreal summer.
You daydream about your picture-perfect beach days and afternoons spent by the pool all the time. The real world has you so stressed out, and you need at least a week of wading in a tropical paradise to cure your wanderlust. That semester you studied abroad was truly the best, because you could jet set on the weekends to some of the best European beaches without a worry in the world.
This summer, you're looking for all the relaxation, and you'll probably take at least one trip to the lake for some swimming. But, if you really want to feel refreshed, you'll need to buy something fun and flirty in advance. Hang in style this summer with a pool float that's been picked out just for you, based on your zodiac sign.