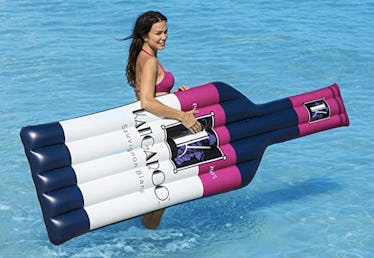 Wine Bottle Pool Floats Exist & They're Perfect For Your Summer Parties
There are a lot of things I'd love to be doing right now, and not one of them includes being stuck in my apartment during a raging snowstorm (as I am at this moment in time). In a perfect world, I'd probably be somewhere super warm, hanging by the pool, and drinking several glasses of wine. And for this pool that I unfortunately don't have with me right now, I'd really love to know where I can buy a wine bottle pool float — because, seriously: I. Need. It.
If you hypothetically (or if you actually) have a pool, there's pretty much no way in hell you could live without a wine pool float; I know this for a fact. Thankfully, the Kangaroo "Bottle of Wine Pool Raft" is available on Amazon (holla at all my fellow Primers) and it comes in two flavors for all you classy wine-o's who can never choose between white or red. So whether you prefer Sauvignon Blanc, or if you're more of a Cabernet Sauvignon kinda guy or gal, Amazon totally has your bases covered. And maybe I'm a bad influence, but you don't have to choose just one — at a reasonable $30, I might just have to buy both. If only there was a rosé option, though. *Sigh.*
The float, per Amazon, is also pretty big, spanning a little more than seven feet in length. So if you're planning on sprawling out, squeezing in a little suntanning, and a lot of wine sipping, then you're totally in luck. The Kangaroo wine float is giant, comfy, and it's apparently quite durable, according to the Amazon description. In all honesty, it sounds absolutely perfect for any and all pool and wine-related activities.
Man, I'm just thinking about all of the fiery Instagrams I would take with this baby. As usual, I would have my personal photographer (aka my very patient boyfriend) take several photos of me as I enjoy a few glasses of wine on my wine floaty. For real, I can already see it, and I'm totally obsessed. Some potential captions include "not wining, just wine-ing" or "floating all my troubles away..." but seriously, don't steal those. They're all mine for future use, once I can finally transport myself out of this miserably freezing North Pole (eventually).
If you're feeling a little fast and furious, a retro pink convertible pool float might be more your speed. Also bound to flood Instagram feeds this summer, this popular pool float is created by FUNBOY, which just added the float to its latest collection on Tuesday, March 20. The company will actually be releasing new float designs every week until the start of May, and the Retro Pink Convertible Float is the first design so far. It's available right now on the FUNBOY website, and just a little pricier than the wine bottle, going for $128 each. It's a sacrifice I just might have to make for that sweet pool fashion, though.
If you're looking for a pool float that'll fit more than just yourself, definitely make sure to take a look at the Party Bird Island floats, which are only $150 at Sam's Club right now. Even though they're slightly more expensive than the wine floats or convertibles, just one can fit six adults (and probably even more dogs) all at once. So if you're planning on soaking up the sun with company, it's definitely ideal for the pool party that I wish I was having right now.
Since drinking wine in a warm place is kind of my dream for the moment, I'm already trolling Amazon to get my hands on a wine bottle pool float... I might also detour and snag a convertible or a giant Party Bird Island float too, though. Regardless of which ones I decide to spontaneously purchase, floats are ideal summer must-haves, and super cute Instagrams are pretty much guaranteed. Dang, I really wish it was summertime already.