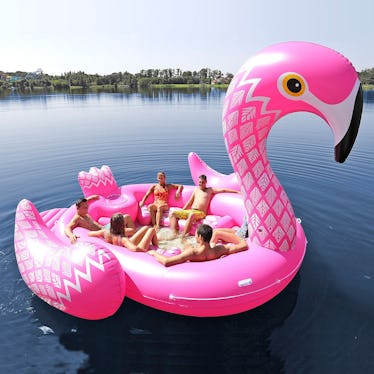 Those Huge Flamingo Floats For You & Your Friends Aren't Cheap, So Split The Cost
When it comes to getting ready for summer, there are probably a few things in particular that get you super excited for the season. For instance, the opportunity to hang out with all my besties and a chance to chill by the water are a couple of my favorite parts about the season of sun and sand. Sometimes, though, you have too many BFFs and not enough pool floats. Instead of continuing with your regular routine of taking turns on a flamingo float every half hour, you can take advantage of the new mega pool float from Sam's Club that will fit up to six of your friends. As you budget for this seasonal purchase, you might wonder how much money you need to put aside for it. So, how much do Sam's "Party Bird Island" pool floats cost?
Before you start planning all the summer "Sunday Fundays" complete with your best Instagram posts yet of these vibrantly colored Party Bird Island floats, you'll have to shell out $150 at Sam's Club for the style of your choice. You might wince a little when you think about spending that much money on a pool float (regular-sized floats tend to sell for about $25), but remember, this game-changing float holds up to six adults at one time. That means you can totally split this cost with your friends who will be right there with you on a giant flamingo, unicorn, or peacock float soaking up that summer sun.
How much you'll wind up paying in a split-cost scenario depends on how many people you plan on sharing the cost with. If you split it among, say, six people who will be at the same lake house all summer, then you'd only have to shell out $25. I'll mention here that this gigantic (and amazing) pool float measures in at 10 feet long by 10 feet wide, so you'll definitely want to reserve it for larger bodies of water than a backyard pool. If, though, you happen to have a ginormous pool available to you (congrats, and can you hit your girl up with an invite?), go ahead and set afloat right there.
OK, I'll get back to the float now. The best part about splitting the cost is that you're getting so much more for your money than you would by spending that cash alone on a regular old pool float. The flamingo and unicorn Party Bird Island floats are flush with amenities to ensure that you have the best day out on the water with your BFFs. They have cupholders, a built-in cooler, and the float inflates a bench-like seat for you to relax.
Seriously, all you have to do when you set off on the flamingo or unicorn float is pack your favorite way to stay hydrated, your sunnies, and some SPF, and you'll be in for the kind of day for which summer was intended.
The third Party Bird Island float is a little less traditional than the unicorn and flamingo floats that have been ruling the season for the past two years. The last option for you is a peacock Party Bird Island. I know, I was a little surprised about this option, too (because when I think of peacocks, I usually think of my 9-year-old self running away from them every time I saw them roaming around the zoo). This inflatable version has the same blue coloring of the exotic bird, but it will not raise its feathers at you if you get too close. Instead you can enjoy chilling on the air mattress-like surface of the float and rest against its colorful tail.
The peacock style doesn't have the cooler or cupholders, but it is perfect if you're looking to stretch out while floating your troubles away.
One last thing to note before you send a group text to see who's in to buy a Party Bird Island float: You'll probably want to buy an electric air pump while you're at it. The good news is that you can snag an electric air pump for just $12 on Amazon. Believe me, it'll be so worth it when you're not passing out after trying to inflate this giant bird like it's a beach ball.
Now that you've officially added the Party Bird Island to your summer must-have list, the only thing left to do is count down the days until you can take it out on the water — and thanks to your cost-sharing besties, you can do it without breaking the bank.