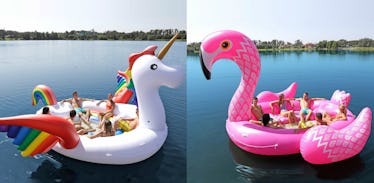 These Giant Pool Floats Can Fit Your Entire Friend Group & I Think I Need Them All
As temperatures warm up and the days grow longer, I can't help but find myself daydreaming about those leisurely days spent by the pool in the summer. Of course, as you get older and have more responsibility, the number of poolside days shrinks, but that means that you need to make the most of the fun-in-the-sun days that you do have. Thankfully, there is a new pool float that will make it so easy for you to totally up your pool party game. Sam's Club "Party Bird Island" pool floats can fit up to six people on it at one time, so you can soak up the sun with all of your besties.
Adding pool floats to the mix is always an easy way to make your afternoon spent poolside that much better. Sometimes, though, there aren't enough floats for everyone to get in on the action, and then one of your pals is relegated to laying out in an awkward beach chair that leaves those uncomfortable strap marks on your back. Thanks to the new Party Bird Island float, all of your friends will have a spot to chill during your next pool day or when you set out for a sunny "Sunday Funday" by the lake — and you can choose from your choice of a flamingo, unicorn, or peacock.
Each of the floats sold at Sam's Club goes for $150, according to their website. The floats are pretty massive measuring in at 10 feet wide by 10 feet long, according to Cosmopolitan. So, unless you're spending the day by an oversized pool, you'll probably get the best use out of your "party island" floating out from the beach. But don't let the size intimidate you, because that's how the Party Bird Island float fits up to six adults. Plus, the flamingo and unicorn styles come complete with built-in coolers and cup holders, so you're pretty much set for the perfect summer day when you hop on one of these floats.
Seriously, just looking at the pictures of these oversized floats has me so ready for the first day of summer. If you're lucky enough to be headed somewhere warm for spring break (or if you live in an eternally sunny place), you can get a head start on the summer pool days when you pick up your very own Party Bird Island float at Sam's Club.
With a $150 price tag, it might sound like a pricey buy at first, but you could always split the cost with your pals since up to six of you can use it at one time. And from the looks of it, the float still looks pretty roomy even when it is filled to capacity with six adults. It's important to note, though, that the inflation of the float could take a while, so you might want to pick up an electric air pump to get your Party Bird Island up and running (er, floating).
Once again, the frills on the respective floats vary, but you are sure to find the perfect one that fits your floating needs. The unicorn and flamingo styles come with the cup holders and built-in coolers, and there is an inflated seating area. The peacock float doesn't have the drink accommodations, and the float is more of an open space on which you can grab a spot anywhere — so if you're looking to really stretch out once you hit the water, then the peacock float could be perfect for you.
As you prepare for summer and the pool/lake/beach days ahead, you might be feeling like it's so far away. Well, the good news is that if you're looking to squeeze in a last-minute spring break getaway, you totally can. Apparently, there are still some travel deals to be had, so if you can't wait one more minute to try out the Party Bird Island float, pick a place with some sun and sand and get floating.
Honestly, it doesn't look like you can really go wrong with your choice of Party Bird Island float. And, at the end of the day, you'll be chilling on a float with all your best pals. What more could you really want?