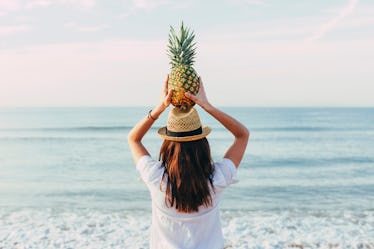 Let's Be Real, Going To The Beach Is WAY Better Than Visiting A City
BONNINSTUDIO/Stocksy
Beach, please. You're so over the city scenes. You'd rather slip on a pair of sandals instead of sneakers, and prefer saturated sunsets over skylines filled with skyscrapers. Spring break is sort of a dream for you because you and all of your friends are going on tropical getaways. Oh boy, you can't wait to fill your social media feed with pineapples and to spend endless hours wading out the semester in the waves. People who love the beach more than the city can relate to the fact that winter is truly the worst, and tropical resorts are really where it's at -- along with these other things they have in common.
The sand, surf, and sun just speak to your soul. You find yourself spending time by the ocean even when it's not summer, and bundling up in sweaters just so you can be closer to the sea. Maybe you come from bustling streets and busy schedules, or have just never been a fan of the bright lights. But, you'd take a tropical trip over a weekend following your wanderlust elsewhere any day. Seriously, if somebody handed you a plane ticket to an exotic place, you'd leave tomorrow and maybe not even take a minute to pack a suitcase.
If you love the beauty of the beach, more than the culture of the city, then you know these 15 things are totally true. You always feel at peace when you're sitting by the shore, and can't get enough of something so salty and sweet.