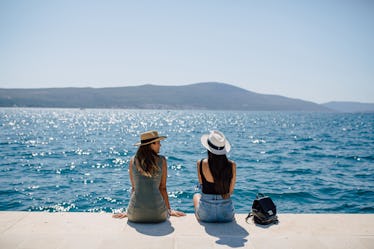 7 Cheapest Beach Getaways To Go On If You Still Want Your Instagram To Sizzle
Boris Jovanovic/Stocksy
We're all in serious need of some summer. Whether you're planning a trip for spring break, or just looking ahead to warmer weather and adventurous vacations, it's safe to say that sunshine has been put on the top of the priority list. You've looked into some of the places on your bucket list and have thought about renting a house down along the shore, but might be afraid of breaking the bank just for a long weekend. Truth is, you don't have to say "no" to sand and surf quite yet. The cheapest beach vacations will still have your Instagram sizzling and cure your summertime sadness, too.
Break out your bikini and stock up on sunscreen. You'll probably want to purchase a new pair of cute sunglasses if you're going to be snapping selfies, and could use a good beach read, too. Snow gets old so fast, and shoveling is the workout nobody was wishing for. You need the escape and are craving a good experience — and who knew you could save so much money while also jet setting?
They say a picture is worth a thousand words, and you want your Instagram to be filled with adventure again. Get those tropical puns ready, and save some pennies in the process. These seven places will be pretty perfect if you're looking for something affordable that will still totally upgrade your social media. Where there's will and wanderlust, there is a wave.