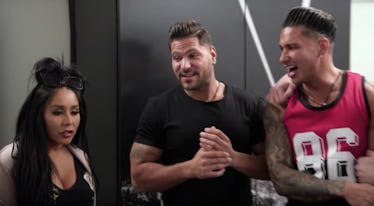 The Full 'Jersey Shore Family Vacation' Season 2 Trailer Is Here, So Start Fist Pumping
MTV
The Jersey Shore cast is going to be taking things up a notch in its new season of their reunion series. MTV just released the full Jersey Shore Family Vacation Season 2 trailer, and it is packed with all the drama that fans can handle. That includes a new baby, a baby on the way, a major JWoww blow-up, along-awaited Seaside Heights homecoming, and not one but two weddings! "If you thought Miami was nuts... what the f—," Snooki warns at the end of the new trailer. Buckle up, folks!
The newly released trailer begins with the cast addressing the surprisingly early release date for Season 2, which will premiere less than two months after the first season concluded. The Jersey Shore cast reflects on the great time they had in Miami for the first season of Family Vacation, and finally, Vinny puts the reason why they are immediately jumping into Season 2 into words: "Why not keep this love-fest going? There's no reason we should wait years to get together."
The trailer also highlights some of the highly anticipated moments that fans have been waiting for Jersey Shore Family Vacation Season 2 to address, like the birth of Ronnie's daughter and The Situation's wedding. We catch glimpses of Mike planning his wedding with bride-to-be Lauren Pesce, which he confirmed will air as a part of Season 2, and Ronnie introducing the rest of the cast to his newborn daughter Ariana Sky.
There is also a heaping helping of drama in the Season 2 trailer, most notably around the return of controversial castmate Angelina. Snooki reveals to the rest of the cast that Angelina asked to come to Las Vegas with them, which sets off JWoww. There is also a surprise, Elvis impersonator-officiated wedding between Pauly D and a mystery person (although the first trailer seems to confirm Vinny is under the veil and the wedding is a joke), and we get to see everyone return to their roots with a trip back to the original Seaside Heights shore house.
Oh, and of course, we also get to see Deena drop the news that she is pregnant, which elicits the most perfect reaction from JWoww.
You can check out the full Jersey Shore Family Vacation Season 2 trailer below:
While the new trailer certainly addresses most of our pressing questions about the Jersey Shore cast, there is one notably absent issue that fans are hoping the upcoming season will get into: Ronnie's scandal-filled relationship with his ex Jen Harley.
Throughout the first season of Family Vacation, Ronnie expressed his concern over the stability of his relationship with Jen after she became pregnant with his child, but the real drama began after Season 1 concluded. Shortly after Jen gave birth to the couple's daughter Ariana Sky, she and Ronnie engaged in an explosive social media fight that ended in their breakup. A month later, Jen was arrested on a domestic battery charge for allegedly dragging Ronnie with her car. But surprisingly, shortly after that arrest, Ronnie and Jen continued hanging out sparking rumors that they may have gotten back together.
I guess we will just have to wait until Season 2 of Jersey Shore Family Vacation premieres on MTV on Thursday, Aug. 23 to find out if Ronnie and Jen's wild relationship makes it onto the show somehow.