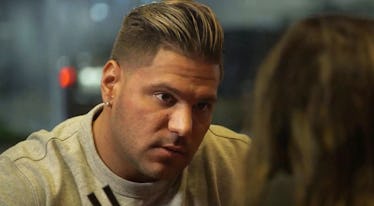 Yes, Ronnie Magro & Jen Harley Spent Fourth Of July Together, But It's Not What You Think
MTV
Umm, is anyone else super confused about what's going on with Ronnie Magro-Ortiz and Jen Harley? The contentious couple has gone from happy parents, to Instagram brawlers, to exes, to physical brawlers, to maybe-reunited lovers in the span of just a couple months. After the dramatic soap opera the couple has put fans through recently, they shocked everyone by posting a photo together on the Fourth of July. But according to TMZ, Ronnie and Jen are not back together, no matter what that reunion photo may have looked like. Elite Daily reached out to Ronnie Magro-Ortiz's team for a comment on this story, but has not heard back at the time of publishing.
According to TMZ's sources, although Ronnie Magro-Ortiz and Jen Harley have been spending time together this week, they have not officially rekindled their romance. Apparently, the exes are simply trying to keep things civil between one another for the sake of their nearly three-month-old daughter Ariana Sky. Jen reportedly flew out to New Jersey earlier this week to spend time with Ronnie. Although Season 2 of Jersey Shore Family Vacation is primarily being filmed in Las Vegas, the cast has recently been spotted filming in New Jersey, so it's possible that Jen may be making a return to the series.
This news comes immediately after Ronnie threw fans for a loop on the Fourth of July by posting a photo of himself with Jen. The photo came as a total shock to anyone who has been following the turbulent soap opera going on between the exes — just a little over a week ago, Jen was arrested on a charge of alleged domestic battery after reportedly dragging Ronnie with her car. The surprise, kissy-faced photo seemed to suggest the couple was getting back together, but it sounds like that is not the case.
Earlier reports from TMZ claim that people close to Ronnie have been telling him to stay away from Jen, but he has been adamant about maintaining a good relationship with his ex because he is afraid she could win full custody of their baby Ariana Sky in a legal battle. Reportedly, Ronnie is looking into filing for 50/50 split custody of Ariana with Jen.
Hopefully, this peacefulness between Ronnie and Jen can last. The two have constantly been at odds since the birth of their daughter in mid-April, and as the first season of Jersey Shore Family Vacation documented, they also had some pretty serious issues before that. While Jen was still pregnant, Ronnie lamented on the Family Vacation cameras that he was not ready to be a father and didn't love Jen, and the series also heavily hinted at Ronnie cheating on Jen with a girl he met at a nightclub.
After Jen Harley gave birth to Ariana Sky in April, she and Ronnie entered into a vicious fight on Instagram, hurling particularly cruel insults at one another. When the social media fighting ended, the couple announced they were splitting up. Though broken up, they continued to co-parent Ariana Sky up until Jen was arrested for alleged domestic battery, reportedly hitting Ronnie and then dragging him with her car after he got stuck in the seatbelt while trying to exit the vehicle. Ariana was reportedly staying with a mutual friend directly after the incident, but is now back with her parents.
Now that she is out of custody, it seems like Jen Harley is working to have a less dramatic relationship with Ronnie, and hopefully they can now move forward without the scary public fights. Reportedly, all this drama between Ronnie and Jen will be a storyline on the second season of Jersey Shore Family Vacation, so we will get to see it all play out for ourselves this fall.