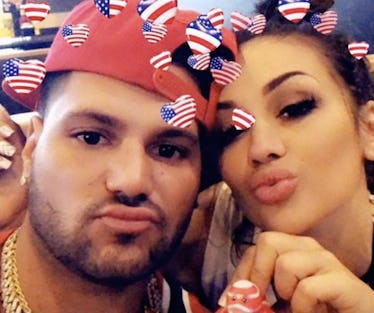 Ronnie Magro-Ortiz & Jen Harley Are Spending The 4th Of July Together & Wait, What?
Ronnie Magro-Ortiz on Instagram
Ronnie Magro-Ortiz and his ex-girlfriend/baby mama, Jen Harley, have had a relationship that can only be described as a serious roller coaster. The two were together for nearly a year by the time they had their daughter, Ariana Sky (three months old), but they've broken up since and have had serious public disputes and reportedly violent interactions ever since. Now, Ronnie Magro-Ortiz and Jen Harley are spending the 4th of July together and I am seriously confused.
Just last week, details of the violent fight between Magro-Ortiz and Harley that resulted in her arrest in Vegas were brought to light by TMZ. According to the outlet, Harley and Margo-Ortiz got into a heated argument when driving home from a barbecue in Las Vegas on Sunday, June 24. Their three month-old daughter, Ariana, was reportedly in the backseat of the car that Harley was driving when Harley reportedly struck her ex-boyfriend so hard, it made him bleed. Then, when Magro-Ortiz tried to get out of the car, he got stuck in the seatbelt and Harley reported kept on driving, dragging Magro-Ortiz with the car as a result.
Photos released by TMZ show Harley's reported car with what appears to be blood all over the center console on the interior of the car and some blood on the back passenger seat on the lefthand side. Elite Daily reached out to Magro-Ortiz at the time asking him to speak for both him and Harley, but did not hear back by the time of publication.
Given that reportedly violent interaction and the fact that it reportedly occurred a few short weeks ago, one wouldn't really expect to see the two on good terms right now. But Magro-Ortiz posted a selfie of him and Harley to his Instagram story on the 4th of July.
Color me confused.
Us Weekly originally reported the news of Harley's arrest following the car incident on June 25. The incident reportedly happened on June 24, and it reportedly included Harley driving over a median with her daughter in the backseat. Ariana was reportedly not harmed during the altercation. The outlet also reported that Harley's bail was set at $3,000, and E! News later confirmed that she was set to have a hearing on Tuesday, June 26.
Before this reported incident, Magro-Ortiz and Harley had a public (verbal) argument on their respective Instagram stories. On April 29, the Jersey Shore: Family Vacation star posted to his Instagram story saying,
Note to self, can't turn a natural born HOE, into a HOUSEWIFE, if you find them in the gutter then leave them in the gutter. Not all people can be saved when they are so far gone. All you can say you did ur best and keep it moving.
He posted again, this time accusing of Harley of holding onto old sex tapes from past relationships. (She's allowed to do that, dude.) His Instagram story said, "If your significant other keeps sex videos of their ex, shouldn't they show enough respect to delete them, esp after being in a new relationship for over a year. #GiveMeYourThoughts." Harley seemingly responded to the post with her own Instagram post saying, "Can't turn a coke head into a father!" adding, "Yeahhh buddy." Yikes.
The next day, Magro-Ortiz released an official statement to Us Weekly about the Instagram fight. The statement said,
I want to apologize to my family, friends and fans. This is a private matter that should have never been made public. I remain focused on my daughter and she is my No. 1 priority.
It makes zero sense to me that the former couple would be spending the 4th of July together after this huge mess, but perhaps they're trying to keep things civil for the sake of their infant daughter.