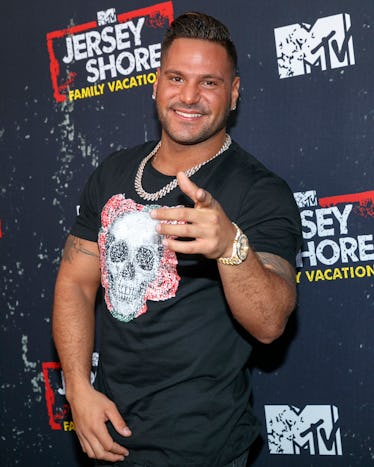 Ronnie Magro Spent The Weekend Calling Out His GF On Instagram & It Got Ugly
Rich Polk/Getty Images Entertainment/Getty Images
Jersey Shore's Ronnie Magro and his girlfriend, Jen Harley, may have recently welcomed their little daughter Ariana into the world, but things got ugly between the two on social media over the weekend. I'm talking major drama here, filled with allegations of videotaped sex and drug use. Seriously, guys, Ronnie Magro's Instagram story about Jen Harley and her ex will make you cringe. But that doesn't mean you won't want to see it.
Magro recently told People that he and Harley were "in talks" about getting engaged "down the line," but were taking things "one step at a time." And while that doesn't sound like an actual commitment to me, it does sound like they were headed in the right direction.
So, where did things go wrong? Who knows. But maybe it has something to do with the fact that a drunk Magro copped to still being in love with his ex, Sammi "Sweetheart" Giancola, on last week's episode of Jersey Shore Family Vacation. I mean, if I was Magro's girlfriend, that definitely wouldn't sit well with me. I have no clue how the mom of two actually reacted, but what I do know is that Ronnie shared the following post on his Instagram story on April 29:
"Note to self, can't turn a natural born HOE, into a HOUSEWIFE, if you find them in the gutter then leave them in the gutter," he wrote. "Not all people can be saved when they are so far gone. All you can say you did ur best and keep it moving."
So intense. And Magro didn't stop there. In a follow-up post, he asked fans to give him their opinions by voting in a poll. "If your significant other keeps sex videos of their ex, shouldn't they show enough respect to delete them, esp after being in a new relationship for over a year," he asked, then added on the hashtag #GiveMeYourThoughts.
Meanwhile, Harley retaliated with a post on her own Instagram story the same day. "Can't turn a coke head into a father!" she wrote. "Yeahhh buddy." Elite Daily reached out to Magro's team on behalf of both him and Harley for comment on the allegations of drug use and a sex tape, but did not hear back by the time of publication.
Magro seemed to be feeling some remorse when he took to his Instagram story once again early on April 30 to post an apology. He wrote, "I want to apologize for earlier to my fans, and especially @tater_tot_kitty I acted on my gut and not rationally. I should've never acted in such a manor [sic]. My deepest apologizes [sic]."
Magro discovered that Harley had gone into labor while he and his fellow cast members were on their way to London for the city's Jersey Shore Family Vacation premiere. As soon as the flight landed, Magro boarded another flight to return home to Vegas for the baby's birth. He later shared the news of his daughter's birth on Instagram, and announced that the couple had chosen to name her Ariana.
"So excited to be a #Father," he wrote. "Words can't describe the feeling. You live your life not ever really knowing the meaning of true love until you have a child. True unconditional love. You love your Significant other, you love your family. I have to say I understand when everyone said you'll understand "when you have a child of your own or when you become a parent." I know I have still tons to learn but im excited for this new journey & chapter In My Life with my beautiful girlfriend & my Daughter."
Really sweet words. Here's hoping the couple can resolve their issues and move on.