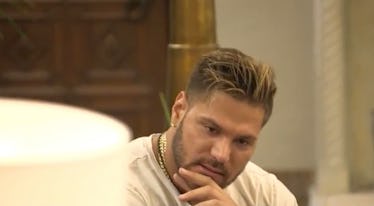 Ronnie Drunkenly Professed His Love For Sammi On 'Jersey Shore Family Vacation' & Yikes
MTV
Ummmm, things are getting a little too real on the latest episode of Jersey Shore Family Vacation. After a night of monumentally-horrible decisions, Ronnie decided to keep his cringe streak going by dropping some really eye-opening truth bombs. That's right; we finally heard him admitting to what everyone has been picking up on for weeks now — Ronnie says he still loves Sammi on Jersey Shore Family Vacation this week, and it was just one of the many uncomfortable Ronnie moments from the new episode.
Spoiler alert: We're going to get into all the dirty details from Episode 5 of Jersey Shore Family Vacation, "About Last Night." Ronnie's slip-up from last week snowballs into even more relationship drama when Snooki begins to question him about his feelings for his pregnant girlfriend Jen. In case you forgot what happened in the previous episode (you definitely did not forget): Ronnie got way too turnt on his Ron Ron juice and began hitting on a woman at a nightclub. He then brought her home and proceeded to show her to his room, where the door closed and we could hear some suspect noises on the other side. Like any true dramatic soap opera, the new episode picks up right where we left off last week, and Pauly D steps up to save Ronnie from himself. Pauly knocks on the door, and repeats the phrase "It's not worth it, bro" ad nauseum in order to get it to pierce Ronnie's vodka-soaked skull. Finally, Ronnie listens to reason and leads his hook-up to a cab.
But Ronnie is still plastered, so the drama doesn't stop there! As everyone else in the house passes out, only Snooki and Ronnie are left standing, and they decide to talk about the one conversation topic that everyone in the house keeps going back to: Sammi. By now, pretty much everyone has expressed their concern that Ron is still sweet on Sweetheart, and in his drunken stupor, he finally admits it to Snooki. Nicole asks him if his pregnant girlfriend is "the one," and his response is not very reassuring: "I mean, probably not, right?" Yikes. Then, Nicole asks why Ronnie can't marry Jen, and asserts "because you f*cking love Sammi," which Ron does not dispute. Yikes again. And finally, Ronnie admits that he misses his relationship with Sam, saying he never found that security with anyone else... including Jen. Yikes times three!
The cringiest and most depressing moment comes at the very end of Ronnie's diatribe, when he says that he is resigning himself to becoming a father for the sake of his kid, even though he thinks it will make him miserable:
So all I can do is act happy and be the best father I can be, and at the end of the day I'm still f*cking miserable.
And... things only get worse from there. Snooki and Ronnie decide that since it's already like 6 a.m. or something, they are just going to continue getting drunk and rally into the next day. This leads Ronnie to begin a crying tour of Miami's bathrooms, landing on three different toilet seats over the course of the episode to reflect on his poor life choices and shed some tears over the fact that his girlfriend is almost definitely seeing all of this because — hello! — it's all being filmed for a reality show.
Despite all the relationship drama that comes up in this episode, Ronnie and Jen appear to be in a good place in real life right now. Jen gave birth to their baby shortly after Jersey Shore Family Vacation premiered, and hopefully actually being a father has made Ronnie feel more sure about where he has ended up.