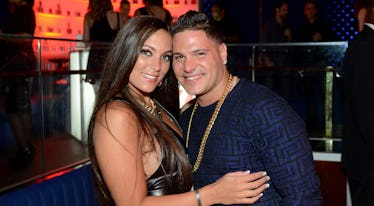 The 'Jersey Shore Family Vacation' Castmates Are Totally Convinced Ron Still Loves Sam
Chris Roque/Getty Images
The Sammi-shaped void continues to loom large over Jersey Shore Family Vacation in its second week, and now it is becoming clearer why her absence is so pronounced — because Ronnie keeps pronouncing it. Oh, and because of that doll that Pauly D brought. But really, it sounds like Ronnie can't stop talking about his ex during the new reunion series, making all of his castmates wonder the same thing: Is Ronnie still in love with Sammi? After Thursday night's new episode of Jersey Shore Family Vacation, it's the question all the housemates are quietly asking.
Actually, the speculation over Ronnie's feelings for Sammi began in the premiere episode. After Ronnie and Deena get into a fight at a nightclub, Deena admits in the confessional that she thinks Ronnie gets so worked up about Sammi because he might still have feelings for her. On Thursday night's latest episode of Jersey Shore Family Vacation, more housemates begin to throw out the idea that Ronnie may not be totally over Sammi.
Pauly D is the first person in the new episode to start wondering about Ronnie and Sammi. He is in the room as Ronnie gets a phone call from his girlfriend Jen, and reacts to how awkward the conversation sounds. The phone call is basically just Ronnie and Jen saying "yeah" back and forth for a few minutes, and then he hangs up and makes a sassy remark to the Sammi doll: "That's what a normal relationship's like, Sam!"
Obviously, Pauly is taken aback, and in the confessional, he starts wondering if that lackluster phone call and Sammi callout may be underlining a bigger issue:
Ronnie may possibly be in denial. He happens to always bring up Sammi, no matter what it is that we do. He's still in love, I think. It's bad.
And Pauly D is not the only one who notices how much Ronnie is talking about Sammi. When the group heads out for some Sunday fun day partying, Ronnie decides it would be a good idea to get "Who wrote the note?" painted on his chest. In case you forgot, one of Ronnie and Sammi's most memorable breakups on Jersey Shore happened because Sammi received an anonymous note detailing the various times that Ronnie cheated on her.
Of course, that note is so far in the past now that JWoww and Snooki have no problem admitting they wrote it, but it still ticks them off that Ronnie would bring up the old drama. In a confessional, Snooki starts thinking about why Ronnie will not stop talking about Sammi:
Oh my god, Ron is still talking about Sam. Stop, you're having a baby with someone else. Move on. What the f— is going on in his head? Maybe he's nervous about the baby? Maybe he's freaking out because he's not ready to settle down with his baby mama? I don't know. Get the f— over it.
So, what is really going on? I mean, Sammi was the conversation topic of choice for the entire cast in the premiere episode — which is understandable since it was the entire cast minus Sammi getting back together again — but it does seem like it's only Ronnie who is constantly bringing her up in Episode 3. Pauly probably regrets bringing that Sammi doll now, because Ronnie seems to be the most drawn to it.
Anyway, Ronnie is officially a father now, so hopefully he worked out his Sammi issues over the course of filming Jersey Shore Family Vacation. It's probably just weird for the rest of the show's cast to see Ronnie without Sammi, since they were a couple pretty much the whole time that they knew them.