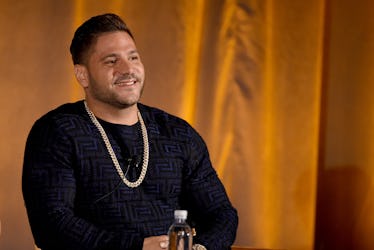 Ronnie's Baby's Name Was Finally Revealed & 'Jersey Shore' Fans Are Melting
Kevin Winter/Getty Images Entertainment/Getty Images
I'm still waiting on edge for the release of the new royal baby's name, but for now, I can distract myself with the beautiful name of Jersey Shore star Ronnie Ortiz-Magro's brand new baby girl. Ronnie and girlfriend Jen Harley welcomed their daughter only days before the premiere of Jersey Shore Family Vacation, but they waited quite awhile to release her name. I get it — they're totally on the same level as William and Kate, right? So, to prepare for this baby's inevitable appearance on Family Vacation Season 2, what's Ronnie's baby's name?
Ronnie confirmed to Us Weekly that his daughter's name is Ariana Sky, and it turns out that the name has played a role in their relationship since the beginning. As he told Us Weekly, the new dad explained:
When we first started dating in the beginning, we'd joke around saying, 'What if we had a kid? It'd be crazy and good looking!' And we'd say 'What would we name it?' We joked that we liked Ariana. When she found out she was pregnant, we looked at each other and we're like, 'Guess we're naming the baby Ariana if it's a girl.' Next thing you know, we find out the gender and we're like, 'Guess so!'
Ronnie discovered that Jen had gone into labor while en route to London for the city's Jersey Shore Family Vacation premiere. As soon as he and the rest of the cast landed there, Ronnie boarded another flight to return home for the baby's birth. Since then, neither he nor Jen have publicly shared any permanent photos of Ariana, which I think is surprisingly mature compared to other reality stars' usual social media activity. Let's just say that this baby isn't appearing in sponsored content a la Bachelor alums' kids.
PEOPLE reports that Jen did give her followers a sneak peek at Ariana when she shared an video via Instagram Story of the baby's feet.
Ariana likely has plenty of Jersey Shore playdates in her future. Ronnie joins castmates Nicole "Snooki" Polizzi, Jenni "JWOWW" Farley, and Pauly DelVecchio as the parents of the group. Nicole and Jenni are both married mothers of two children each, while Pauly D has a daughter. Although she's a little too small to keep up with the big kids now, I have a feeling that Nicole and Jenni's daughters will definitely take Ariana under their wings.
Nicole previously hinted at what the new bundle of joy looked like following her birth, telling PEOPLE:
The baby looks just like Ronnie. She's tanner than me!...[Ronnie's] like, 'This is the best feeling ever — my life has totally changed. I'm a completely different person.' I'm like, 'Welcome to the club, babe.' And Ronnie's so good with kids.
After announcing his daughter's name, Ronnie then told Us Weekly:
Things that were important to you just aren't important anymore. Your mindset is taking care of your family and being a good role model and basically just, you never want to see anything happen to them. She gets the hiccups and I go crazy because it's out of my hands. She'll get them for 5-10 minutes, I'm like 'Oh my gosh! I just want to stop them!' So I try to scare her, I'm like 'Boo!' and Jen's like, 'Uh, that doesn't work on babies.' I'm like 'Oh, that makes sense.'
He has also already experienced his first time away from Ariana, needing to go to New York to film material for MTV. Obviously, his little family wasn't too far from his mind while there:
Luckily, Jen is very understanding; she understands that I live a certain lifestyle that involves me traveling but she knows I love her and the baby at the end of the day.
Fans of Jersey Shore definitely seem ready to fist pump over the baby's name:
Here's to another little guidette joining the Jersey Shore family!
Jersey Shore Family Vacation airs on Thursdays at 8 p.m. ET on MTV.