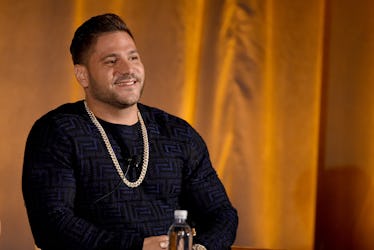 Ronnie Magro's Girlfriend Debuted Their Daughter On Instagram & She Is So, So Cute
Kevin Winter/Getty Images Entertainment/Getty Images
Hold on to your Ron Ron Juice, Jersey Shore fans, because the first photos of Ronnie Magro's newborn baby have arrived. After weeks of keeping things private (which we all know Ron isn't exactly the best at), Ronnie and his girlfriend Jen Harley have finally debuted their daughter on Instagram, and the photos of Ronnie Magro's baby will give you serious baby fever. Fans knew that baby Ariana would be a cute little guidette, but I wasn't expecting her to be so small and precious — Ronnie is a big dude, after all. Ariana may be roughly the size of Ron's head right now, but I bet it's only a few years before she becomes a little fist-pumper of her own.
Baby Ariana made an Instagram appearance on Jen Harley's Instagram Story on Tuesday, April 24 in three different videos. In the first video, the baby peacefully sleeps on Jen's chest as Tim McGraw's "It's Your Love" plays in the background. "#itsyourlove #icantgetenough" writes Jen. I'm so here for this early-in-life Tim McGraw introduction. In another video, the camera zooms in on a sleeping Ariana, but this time she's wearing a onesie with animals all over it, and it is so cute I might die. I'm not sure what it is about baby clothes with animals on them, but I just love them. There is nothing — I repeat, nothing — cuter than a baby wearing a onesie with a giraffe and/or elephant on it. End of story.
In the third video, fans finally get a sneak peek at Ronnie's relationship with his daughter, and it's so sweet that it almost makes me forget all about his near-breakdown on Jersey Shore Family Vacation. Ronnie kisses his sleeping baby on the head and nuzzles her, which is great if you were worried (like me) about how he'd take to fatherhood. "That's my baby," Jen writes about the cute moment.
It's nice to see that Ronnie and Jen are adjusting to life as parents, especially because Ariana's arrival was insanely dramatic. When Jen went into labor, Ronnie was on a plane to London for the Jersey Shore Family Vacation premiere, and he immediately had to turn around and head back to Las Vegas, Nevada when his flight landed in England. A source told Page Six that Ronnie's Jersey Shore castmates, who were traveling with him at the time, were hugely excited for him:
Halfway through the flight this weekend, he found out his pregnant girlfriend Jen Harley's water broke. The second he landed in London he turned right back around to his home in Vegas to be with her. The cast was so excited... they were hugging him at the gate.
Ultimately, Ronnie made it, and he and Jen named their newborn daughter Ariana Sky. On April 17, the reality star told Us Weekly that the name has been important to their relationship since they first started dating — but first as a joke:
When we first started dating in the beginning, we'd joke around saying, 'What if we had a kid? It'd be crazy and good looking!' And we'd say 'What would we name it?' We joked that we liked Ariana. When she found out she was pregnant, we looked at each other and we're like, 'Guess we're naming the baby Ariana if it's a girl.' Next thing you know, we find out the gender and we're like, 'Guess so!'
Awww. If that story doesn't make you swoon, I don't know what will. Ronnie really seems like he's trying his best to be a great dad, and I'm so happy for him and Jen.
Ronnie even explained to Us Weekly that his priorities have totally changed since Ariana's birth, which is a big statement for the king of Ron Ron Juice to make:
Things that were important to you just aren't important anymore. Your mindset is taking care of your family and being a good role model and basically just, you never want to see anything happen to them.
Ariana's birth seems like the best thing that's happened to Ronnie in a long, long time. Congrats to the happy couple, and keep up the pictures!