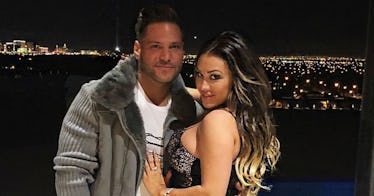 The Reported Details Of Ronnie Magro & Jen Harley's Fight Are Straight-Up Disturbing
Instagram/realronniemagro
Jersey Shore: Family Vacation star Ronnie Magro-Ortiz and ex-girlfriend Jen Harley have been having multiple public disputes over the last couple of weeks. Their tension came to a climax earlier this week when Harley was arrested on June 24 for alleged domestic battery. Now, more details of Ronnie Magro and Jen Harley's reported fight have been reported by TMZ, and, if accurate, they're seriously disturbing. Elite Daily reached to Magro's team for comment on the report, but did not hear back by the time of publication.
As previously reported, Harley and Magro reportedly got into a verbal fight that allegedly turned physical when they were driving home from a barbecue in Las Vegas on the evening of Sunday, June 24. Their 2-month-old daughter, Ariana Sky, was reportedly in the backseat of the car that Harley was driving at the time. During the reported heated argument, Harley reportedly struck Magro in the face. When he tried to get out of the car, Harley reportedly started to drive again, at which time Magro reportedly got caught in the seatbelt and was dragged by the car as a result. Elite Daily reached out to Magro's team for comment on the initial report but did not hear back by the time of publication.
New photos released by TMZ show reportedly the car in question. In the photos, you can see what appears to be blood on the center console of the car. The blood is reportedly from Magro's face as a result of his injury, according to TMZ. TMZ also reports that the car sustained multiple flat tires as a result of Harley reportedly driving over a median. Ariana, who was reportedly in the backseat the whole time, was apparently not harmed in the incident. Us Weekly originally reported Harley's arrest and that her bail was set at $3,000, then E! News later reported that she was scheduled to have a hearing on the morning of Tuesday, June 26.
The photos released by TMZ reportedly show Harley's car. You can see what appears to be blood on the left-hand passenger door of the car. A second photo shows the center console of the car seemingly covered in blood as well. Magro is reportedly working with legal counsel to figure out what his next steps should be.
This is the most intense out of a series of disputes between the former couple. On April 29, Magro and Harley got into a heated social media fight on their Instagram stories. Magro accused Harley of reportedly keeping old sex tapes from a past relationship, and Harley responded by accusing Magro of having a cocaine addiction. Elite Daily reached out to Magro's team for comment about the sex tape and drug addiction allegations, but did not hear back by the time of publication. Magro's two posts about Harley on his Instagram story on April 29 started off with him saying,
Note to self, can't turn a natural born HOE, into a HOUSEWIFE, if you find them in the gutter then leave them in the gutter. Not all people can be saved when they are so far gone. All you can say you did ur best and keep it moving.
He said in a second post, "If your significant other keeps sex videos of their ex, shouldn't they show enough respect to delete them, esp after being in a new relationship for over a year. #GiveMeYourThoughts."
Harley's post about Magro on her Instagram story said, "Can't turn a coke head into a father!" adding, "Yeahhh buddy."
On April 30, Magro released an official statement about the state of his relationship with Harley, which was given to Us Weekly. "I want to apologize to my family, friends and fans," he said. "This is a private matter that should have never been made public. I remain focused on my daughter and she is my No. 1 priority."
The trouble in their yearlong relationship was discussed on Jersey Shore: Family Vacation. The show strongly hinted that Magro reportedly cheated on Harley by showing him bringing a woman into his room in one of the episodes, but the two reconciled on the show. Before the episode aired, Magro told Us Weekly, "So you get put in that house and you get put in certain predicaments where, you know, we're 10 years in, so you have to do what you have to do to make sure that you get back on TV ... You'll see at the end, I don't do what you think I do."
To say things between Ronnie Magro and Jen Harley have been dramatic would be an understatement. Their daughter, Ariana, is reportedly staying with a friend of the former couple while they figure out what's going to happen next following this reportedly violent car incident.