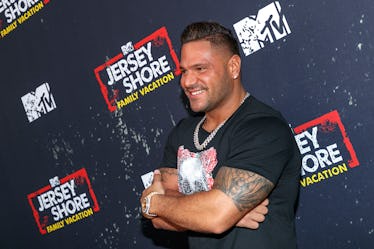 Ronnie From 'Jersey Shore' Just Opened Up About Rumors He Cheated On His Pregnant GF
Rich Polk/Getty Images Entertainment/Getty Images
Cabs are here! There's less than a week until your favorite guidos return with Jersey Shore Family Vacation, and I cannot wait. The drama, the drunken antics, Vinny (obviously he's the best) — there's no show on TV like Jersey Shore, and after almost six years off the air, it's back and better than ever. MTV's new trailer is filled with drama, but the biggest shock comes from a sexy hot tub moment that suggests housemate Ronnie Magro reportedly cheated on his very pregnant girlfriend while in Miami. Did Ronnie cheat on his girlfriend on Jersey Shore Family Vacation? There are a lot of theories flying around, but Ronnie set the record straight about this suggestive scene once and for all. Elite Daily also reached out to Ronnie's team for further comment but did not hear back by the time of publication.
In the new Jersey Shore Family Vacation trailer that dropped on March 29, Ronnie is seen dancing with a girl at the club and then hanging out with her (read: touching her butt) in the hot tub back at the house. Later, fans see him crying on the phone, saying, "I'm a bad guy." Is he talking to his girlfriend, Jen Harley? Who's the mystery woman? Why is he a bad guy? I have so many questions and I'm desperate for answers, and luckily, Ronnie is here to provide them.
According to Ronnie, he did not cheat on his girlfriend. Instead, he claims he "did what he had to do" — as a reality TV star — to ensure that he got a good amount of screen time. Ronnie spoke to Us Magazine at the L.A. Jersey Shore Family Vacation premiere party on March 29, saying,
You get put in that house and you get put in certain predicaments where, you know, we're 10 years in, so you have to do what you have to do to make sure that you get back on TV. It's like, do you want to see people go home and go to sleep? Or do you want to see people go home and do what they have to do? And that's the point that you get to — you'll see at the end, I don't do what you think I do.
All things considered, Ronnie definitely isn't wrong. The Jersey Shore producers are creating a TV show, first and foremost, and sometimes depicting reality isn't exactly their no. 1 priority. Fans want to see Mike and Vinny bring home girls and try to impress them in the hot tub, not make a tray of pizza rolls and pass out on the couch. I live for the post-club confessional: that's where the best Snooki and Deena one-liners are created. But that being said, it's a little disheartening to hear that all the amazing drama is calculated on both the cast and the producers' parts. I mean, I know it's not ~real~, but at the same time, I don't really want to know how the sausage gets made.
Ronnie went on to claim that his girlfriend knew about the kind of things he would have to do on the show and is totally OK with it. Ronnie's girlfriend, Jen Harley, hasn't spoken publicly about this film incident. Elite Daily reached out to Ronnie's team for comment from Harley but did not hear back by the time of publication. "Any woman that's with me knows what to expect just from watching the show, watching my roommates and seeing what they do," he said. He added that even though he "puts himself in a lot of weird situations," he "never follows through with anything." It sounds like, according to him, Ronnie knows that at the end of the day it's about the ratings, and if his flirting will bring in viewers, then so be it.
Ronnie and Jen began dating in early 2017, and in December 2017, the couple announced that she was six months pregnant. That means that she'll be due practically the same day as the Jersey Shore Family Vacation premieres on Thursday, April 5 (better known as "Jerzday"). From the trailer, it seems like fans will get to meet Jen when the new season of Jersey Shore premieres: in one shot, Ronnie walks hand-in-hand down the beach with his pregnant girlfriend.
Jersey Shore Family Vacation premieres at 8 p.m. ET Thursday, April 5 on MTV.