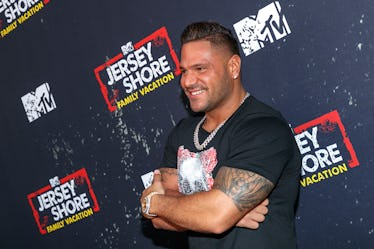 Ronnie Magro's Ex Was Arrested For Alleged Domestic Battery & Things Are Getting Out Of Hand
Rich Polk/Getty Images Entertainment/Getty Images
The real Jersey Shore Family Vacation drama has been going on behind the scenes of the reality show. Ronnie Magro-Ortiz and his ex-girlfriend Jen Harley have been publicly fighting with one another for weeks, but things have just reached a shocking new low. Ronnie's ex Jen was arrested for alleged domestic battery on Monday, E! News confirmed, and the details are pretty unsettling.
The Las Vegas Metropolitan Police have arrested Jen Harley on a domestic battery charge. Harley's bail is set at $3,000 and she is scheduled for a hearing on Tuesday morning, according to the report. A source told Us Weekly, which first broke the story, that Harley had allegedly beat Ronnie up and then dragged him with her car.
The Us Weekly source expanded on the incident, saying that Jen and Ronnie got in a heated fight while driving home from a barbecue they had attended earlier that day. According to the source, Jen hit Ron in the face and was driving so erratically that she ran over the median and had three flat tires. Apparently, when she stopped to let Ronnie out of the car, he got caught in the seatbelt, but she continued driving, dragging Ronnie alongside the car and bloodying his face. The couple's newborn child Ariana Sky was reportedly in the car at the time but is not injured and staying with a mutual friend for the time being. Ronnie is reportedly speaking to legal counsel on how to proceed.
This arrest is the latest in a string of alarming public blow-ups between Ronnie Magro-Ortiz and Jen Harley. The pair had been dating for about a year before announcing that they were expecting a baby together around the time that Jersey Shore Family Vacation had begun filming. The reality series (which is airing its season finale on Thursday) heavily hinted at Ronnie cheating on Jen, showing Ronnie bringing a girl into his room after a night of clubbing, but the couple worked through their differences when Jen appeared on the show for an episode. In more recent episodes, Ronnie has accused of Jen cheating on him in the past, and opened up about his apprehension in becoming a father when he does not feel that he loves the mother of his child.
But the on-screen drama between Ronnie and Jen is nothing compared to what has been going on with them away from MTV's cameras. Shortly after Jen gave birth to her and Ronnie's daughter Ariana Sky, the new parents launched into a nasty social media fight with one another. Ronnie accused Jen of keeping sex tapes of herself and an ex, and Jen fired back by accusing Ronnie of a drug addiction. The couple officially split up following the altercation.
Earlier this month, the police got involved in another domestic violence situation between Ronnie and Jen. In early June, Jen called the police accusing Ronnie of starting a physical altercation with her at Planet Hollywood in Las Vegas. However, when the police arrived, Jen had left the scene and both Ronnie and hotel security claimed that Jen was the aggressor in the situation. The police planned to submit a warrant for Jen's arrest under a domestic violence charge, but Ronnie dropped the charges. Jen denied hitting Ronnie in an interview with People shortly afterwards.
Although Ronnie and Jen have broken up, they have both been raising their daughter Ariana Sky up to this point. It is too early to tell what will happen with the couple following the news of Jen's arrest, but it sounds like a custody battle may be in the near future.