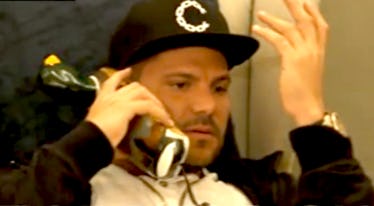 Here's Everything 'Jersey Shore' Fans Should Know About Ronnie & Jen's Relationship
MTV
True to its predecessor, Jersey Shore Family Vacation has quickly devolved into a trainwreck that you just cannot look away from. And the conductor of the crazy train is Ronnie, the expectant father (now, already a father) whose downward spiral has been at the center of the entire revived reality show. Ronnie's rocky relationship with his girlfriend (now, former girlfriend) Jen Harley has taken over both the recent headlines as well as the recent episode of Family Vacation. So fans might be wondering, how did Ronnie and Jen meet in the first place, and how did their relationship become so toxic? Let's break it down.
Thursday night's new episode of Jersey Shore Family Vacation focused almost exclusively on Ronnie's cringe-inducing relationship with his pregnant girlfriend Jen Harley. The episode could not have come at a more fitting time: over the weekend, Ronnie and Jen's Instagram fight took over every Jersey Shore fan's timeline. The caustic social media soap opera started when Ronnie accused Jen of keeping sex tapes of her ex, and continued to escalate as Jen responded that he was a "coke head," eventually ending in a physical altercation between the two recorded live on Jen's Instagram story. After all this went down, it was revealed that Ronnie and Jen are now broken up. Mind you, all of this went down within one month of the birth of their baby Ariana.
With Ronnie and Jen's nasty break-up still fresh on the minds of Jersey Shore fans everywhere, it was a truly strange experience to watch him lie and apologize throughout Thursday night's Jersey Shore Family Vacation, attempting to save a relationship that we all know is doomed. Even Ronnie's fellow cast members can see the writing on the wall: Pauly D sits Ronnie down and tells him that he can still be a good father without being in a relationship with the baby's mother, and Snooki, JWoww, and Deena debate telling Jen about Ronnie cheating on her, pondering why all of his relationships become so toxic.
The new episode ended with Jen finally arriving at the house for her visit, teasing that next week will be all about Jen and Ronnie's drama. Of course, we all know now that the two will not break up during the pre-taped episode, but the relationship is totally kaput now.
So, what is the full story with Ronnie and Jen, anyway? There is no official record of when the two first met, but we know for sure that it was sometime between February of 2017 and July of 2017. Ronnie broke up with his Famously Single costar Malika Haqq at the end of last January, and Jen Harley posted the first photo of her and Ronnie kissing to her Instagram on July 22 of last year, after TMZ first reported that Ronnie was out with a new girlfriend at a Las Vegas nightclub. Some sites predict Ronnie and Jen began their relationship last May, which would mean that they likely broke up pretty close to their first anniversary.
Ronnie moved to Las Vegas when he began dating Jen Harley, but of course, he a month or so down in Miami filming Jersey Shore Family Vacation. Jen announced her pregnancy at the end of December, revealing that she was already about six months along at the time of the announcement. She gave birth to her daughter Ariana in the middle of April, and she and Ronnie called it quits at the very end of April.
Now that their relationship is over, all that's left to do is for Ronnie and Jen is to watch their troubled personal drama play out on national television over the next couple of weeks. That must be... fun?
This article was originally published on