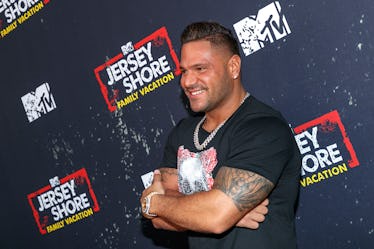 8 Facts Every 'Jersey Shore Family Vacation' Fan Should Know About Ronnie's Girlfriend
Rich Polk/Getty Images Entertainment/Getty Images
Jersey Shore may be back, but things are a little different this time around. Snooki and JWoww are married with kids, Mike "The Situation" is in a long-term committed relationship, and Ronnie is a brand new father. I've been keeping tabs on Snooki, JWoww, and Mike for a while, but Ronnie has stayed under the radar since Jersey Shore ended in 2012, so now, I'm left with one major question: Who is Ronnie's girlfriend? I know that Jen Harley gave birth to their daughter right before Jersey Shore Family Vacation aired, but I'm desperate to know a little more about the woman in his life.
For much of his time on Jersey Shore, Ronnie was known for his on-again, off-again relationship with Sammi "Sweetheart," but now that he has a baby daughter, he's looking to put that past behind him. Ron has talked openly about how excited he is to be having a baby with Jen, writing on Instagram, "I couldn't be more excited to be taking this next step in my life!" Jen hasn't shared a pic of the newborn baby yet, but she has posted plenty of pictures with Ron since their relationship began, and she seems totally devoted to the Jersey Shore star. After years of uncertainty, this relationship seems like the real deal for Ronnie, so don't expect Jen to go anywhere any time soon. Here's everything you need to know about Ronnie's girlfriend Jen Harley.
1. She began dating Ronnie in early 2017
Unlike his Jersey Star Family Vacation co-stars, Ronnie is a little more private when it comes to his personal life. We don't totally know exactly when he and Jen started dating, but we can safely say that their romance started shortly after he ended things with Malika Haqq, Khloe Kardashian's best friend, in February 2017. I'm going to need Jen to do a sit-down interview and tell us how the two met ASAP. Oh, and some baby pics wouldn't be the worst thing in the world, either.
2. Jen has a 12-year-old son from another relationship.
Ronnie may be new to the parenting game, but Jen has plenty of experience. She has a 12-year-old son from a previous relationship, and she posts about him regularly on her Instagram account. If you feel like this is a total shock, you're not alone: on the April 12 episode of Jersey Shore Family Vacation, Pauly was just as surprised to hear that Jen had a 12-year-old son. Um, Ron, maybe you should update your friends more on your life? He may not be your own son, but your friends should probably have some kind of clue he exists. Then again, Ronnie was never the best at communicating, was he?
3. She lives in Las Vegas, Nevada.
At the beginning of Jersey Shore Family Vacation, fans got a quick glimpse into Ronnie's life with Jen in Las Vegas, and it seemed surprisingly low-key. I mean, compared to Pauly's motorcycles in his foyer, anything is normal, right? It's unclear what Jen does for work in Vegas, but from her social media, it seems like she's some kind of Instagram model or promoter.
4. Jen is so, so excited about having a girl.
Because Jen already has a son, having a daughter with Ronnie is an incredibly special experience. In January, Jen's friends hosted a gender reveal party where the happy couple popped a balloon to reveal pink feathers. Jen posted about the party, saying, "If you can't tell we're beyond excited for this babygirl. Thank you to my bff for setting up the reveal party."
5. She has an adorable pit bull named Kimber.
If that face doesn't melt your heart, I don't know what will.
6. Jen went into labor without Ron.
In a case of bad timing, Jen's water broke while Ronnie was flying to London for the premiere of Jersey Shore Family Vacation. According to Page Six, when Ronnie landed, he immediately turned around and headed back home to be with Jen. Luckily, Jen had her two best friends by her side as she waited for Ronnie to get back home, and her friends even joked on her Instagram stories that they were stepping in for Ron. "You're welcome, Ron! [I'm] being the best fill-in I can be!" said one of Jen's friends.
7. She's a big fan of Hollywood Medium.
When Ronnie filmed an episode of Hollywood Medium in February (the episode aired Monday, April 9), Jen shared a cute pic with the Hollywood Medium himself, Tyler Henry. "So excited for the new season of @tylerhenrymedium Feb 28th can't wait," she wrote. "I've been watching re runs getting excited! Tyler was one of the sweetest persons we ever met."
8. Yes, you'll see more of her on Jersey Shore Family Vacation.
Fans saw a little of Jen at the beginning of Family Vacation, but get ready to see a whole lot more of her, because she spent time down in Miami while Ronnie was filming. Hopefully, we'll see more of Jen and the baby in Season 2!