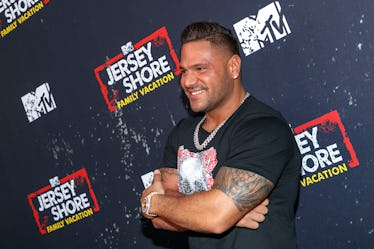 Ronnie Magro & His Girlfriend Are Reportedly Broken Up After That Vicious Instagram Fight
Rich Polk/Getty Images Entertainment/Getty Images
Remember when Ronnie joked about cancelling cable so that his ex-girlfriend Jen Harley couldn't watch the April 26 episode of Jersey Shore Family Vacation? Well, it turns out that the Jersey Shore star was right, because a new report says that Ronnie Ortiz-Magro and Jen Harley broke up after their social media fight on Sunday. Things weren't looking good the two after their highly-publicized Instagram battle, but Ronnie apologized via Instagram early Monday, and it seemed like their relationship was on the mend. So what exactly went wrong since then?
A source close to the couple told E! News exclusively that Ronnie and Jen have officially called it quits. "They are broken up. They're done," said the source. Elite Daily reached out to Ronnie's team regarding the report but did not hear back by the time of publication.
The breakup comes as a shock to the Jersey Shore star's fans, many of whom were super excited for Ron to finally settle down and be a father to his newborn daughter, Ariana. Plus, Ronnie was already thinking about the future: He recently told People that he and Jen were "in talks" to get engaged "down the line," leading many to believe that Ron would follow in his roommate Mike "The Situation" Sorrentino's footsteps and propose. Ronnie seemed genuinely excited about being a father — and we saw him attempt to own up to his mistakes on Jersey Shore Family Vacation — so it's unfortunate that the new parents reportedly weren't able to make things work.
While the timeline is a little unclear, we do know that Ronnie and Jen's Instagram feud started on Sunday, April 29, when Ron shared a post on his Instagram story that said, "Note to self, can't turn a natural born HOE, into a HOUSEWIFE, if you find them in the gutter then leave them in the gutter." He continued, "Not all people can be saved when they are so far gone. All you can say you did ur best and keep it moving."
Um, what? Ronnie followed that up with another post, this time alleging that his significant other kept sex videos of her ex.
To get back at Ronnie, Jen posted on her own Instagram story shortly after. "Can't turn a coke head into a father! Yeahhh buddy," she wrote. Elite Daily reached out to Magro's team on behalf of both him and Harley for comment on the allegations of drug use and a sex tape, but did not hear back by the time of publication.
Early in the morning on Monday, April 30, just hours after their fight, Ronnie apologized publicly to his girlfriend, saying that he apologizes to his fans and especially to Jen.
Now, on Instagram, it seems that Jen's entire account has been deleted. Ronnie's is still active at the time of publication.
According to E! News' source, the two are currently still living together as they work out how best to go about their breakup. Said the source:
He apologized for everything and admitted where he had been wrong but he also wants whats best for his daughter and he realizes this is not a healthy environment for her. They have split but for now they are both living in his Las Vegas house. Jen will most likely be moving out.
From what I can see, being apart right now is probably the best thing for Ariana. Hopefully, once their tempers calm down, Ronnie and Jen can figure out the best way to take care of their daughter and give her the best life possible.