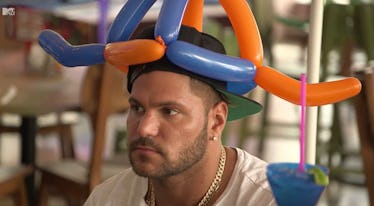 Ronnie Sobbed Over His Doomed Relationship On 'Jersey Shore' & It's Hard To Watch
MTV
Ronnie has been the centerpiece of Jersey Shore Family Vacation for the entire season, and Thursday night's new episode was a tear-filled, emotional low point for the embattled reality show star. His rocky relationship with his (at the time) pregnant girlfriend Jen Harley has been on life support throughout the new series, and Ronnie finally broke down in tears on Jersey Shore Family Vacation and admitted that he is jealous of his happily coupled-up housemates.
On the surface, the new Jersey Shore Family Vacation episode was all about Mike preparing to propose to his longtime girlfriend Lauren Pesce, but really, the actual turmoil was brewing with Ronnie. Throughout the season, Ronnie's relationship with Jen Harley has been at the center of all the surprising, cringe-inducing drama for a bunch of reasons. One is that Jen was at home and pregnant while Ronnie was shown bringing a girl into his bedroom at the Jersey Shore house. Then there is also the constant undercurrent of Ronnie's lingering feelings for his ex Sammi Sweetheart, who chose to not return for Family Vacation in order to avoid him. But the cringiest part of all is the knowledge that Ronnie and Jen have recently broken up since filming the show, and everyone watching already knows that their dysfunctional relationship is doomed.
After Jen Harley visited the Family Vacation house a couple episodes ago, it actually looked like the she and Ronnie had smoothed things over, but of course that things could not stay that way for long. On Thursday night's new episode, Ronnie opened up about his and Jen's complicated history and tearfully admitted that he does not thing their relationship will work out.
Early on in the new episode, Ronnie opens up to JWoww, Snooki, and Deena about how unstable his relationship with Jen has been even before coming into the Family Vacation house. He says that Jen cheated on him, and although Ronnie stayed with her, he retaliated by doing some pretty terrible things as well.
Once Mike's girlfriend Lauren shows up in the house, it is clear that Ronnie's ongoing "playful" feud with Mike starts taking on an even darker edge. Now, Ronnie is dissing Mike behind his back right before he is about to propose to his girlfriend, and he even riles JWoww up to bad-mouth Mike with him by telling her that Mike was planning a prank on her. In the end, Ronnie admits to himself that he is actually jealous of Mike because Mike is in a happy, stable relationship, unlike himself.
The episode ends with a particularly difficult-to-watch scene of Ronnie sobbing all alone while the rest of the house is asleep. He makes his way to the confessional room and delivers an expletive-filled breakdown through his tears about how unhappy he is:
Everyone else goes and they f—ing live their life and they're f—ing happy and I don't have all the sh— they have; it's just me. Who the f— is the right person at this point? Because I was with a girl for eight years and that sh— didn't work out. Now I got a girl pregnant after a year, sh—'s probably not going to work out. So like what's the good... what is it? Please tell me, because I have f—ing have no idea. I don't know. I'm doing my best and trying to make it work. And like, here I am: the same crying-ass b— Ronnie in the same f—ing place, in the same f—ing house. It's so hard.
Thankfully, Ronnie does not seem so despondent now. Although he had a very messy breakup with Jen Harley last month, his recent Instagram posts show that he is happily raising his newborn daughter Ariana Sky.
But for Jersey Shore Family Vacation viewers, it definitely looks like we are going to see Ronnie go through a lot of super-emotional drama in the rest of the season before he gets to the happy place in that Instagram video with his daughter.