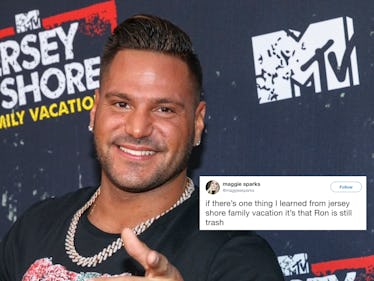 These Tweets About Ronnie On 'Jersey Shore' That Are So, So Brutal
Rich Polk/Getty Images Entertainment/Getty Images
Did you hear that? That's the sound America collectively saying, "Raaaahn, staaaahp" after Thursday's episode of Jersey Shore Family Vacation. After questionably cheating on his girlfriend, Ronnie continued to dig himself deeper into a hole by pretty much denying that anything happened, both to his then-pregnant girlfriend Jen Harley and to his roommates. Jen was willing to put the past behind them, but Ronnie hasn't been so lucky with viewers, many of whom spent the night dragging him on Twitter for his behavior. These tweets about Ronnie on Jersey Shore are so brutal that I wouldn't be surprised if he's ditching his G.T.L. routine and spending the day in bed. Or, knowing Ron, he's going hard on the Ron Ron Juice to forget all about his haters.
Ronnie has always been a controversial Jersey Shore cast member — his on-again, off-again relationship with Sammi didn't exactly make him super lovable — but things are totally different this season on Jersey Shore Family Vacation. Ronnie's current spiral has been a three-episode affair, and fans have seen every part of it. The chaos started when Ronnie grinded with a girl at the club, brought her home, and did something shady with her (he insists they were just talking) behind closed doors in the bathroom.
Pauly D ultimately stepped in before something really bad could happen, but the next day, Jen wouldn't take his calls. The roommates discovered that someone had taken a video of Ronnie dancing with the girl and posted it on Instagram. When Ronnie finally got a hold of Jen, he insisted on explaining that "what she thinks she saw" isn't actually what happened — effectively ratting himself out.
After watching Ronnie's drama unfold for the last three episodes (and likely more now that Jen will be visiting) fans are starting to get tired of his BS. These fans aren't holding anything back, so brace yourself for some brutal truth, Ron.
These tweets are so, so rough, but can you really blame fans for feeling this way? Ronnie is undoubtedly behaving like a total f*ckboi, and as much as I love Ron, his behavior has left me completely shocked. It's hard to come up with something nice to say about the Jersey Shore star right now, but I'll give him this: Ronnie certainly knows how to make great TV.
Things may seem dramatic on-screen for Ron, but things are even more chaotic for him off screen. In early April, Jen and Ronnie welcomed a baby girl named Ariana, and it seemed like the two of them were finally on the right path. But then, on April 29, Ronnie and Jen got in the largest Instagram fight of all time, in which Ronnie accused Jen of keeping sex tapes of her ex and Jen called Ron a "coke head." Elite Daily reached out to Magro's team on behalf of both him and Harley for comment on the allegations of drug use and a sex tape, but did not hear back by the time of publication.
The next day, a source close to the couple said that Ronnie and Jen had split. "They are broken up. They're done," the source told E! News. Ronnie and Jen are reportedly still living together as they figure out how best to co-parent their daughter and move forward post-breakup:
He apologized for everything and admitted where he had been wrong but he also wants whats best for his daughter and he realizes this is not a healthy environment for her. They have split but for now they are both living in his Las Vegas house. Jen will most likely be moving out.
Fans will get to meet Jen on the May 10 episode of Jersey Shore Family Vacation, so hopefully we'll be able to figure out what exactly went wrong in she and Ronnie's relationship.
With Jen in the house, something is bound to explode. Get that popcorn ready, Jersey Shore fans!