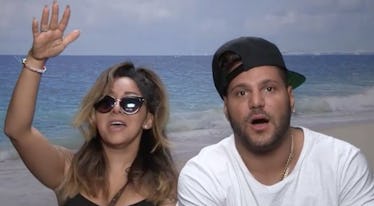 Snooki & Ronnie Made Up A New Word On 'Jersey Shore Family Vacation' & It's Hilarious
MTV
Not only was Jersey Shore a smash reality series, but it also influenced the vocabulary of an entire generation. Guidos, juiceheads, meatballs, grenades, smushing, fist pumping... the MTV series was a veritable dictionary of new terms, and now the reunion series is adding a new entry. The Jersey Shore Family Vacation cast introduced the term spiraling into our collective lexicon in the latest episode, and Snooki and Ronnie were more than happy to provide viewers with a perfect example of what spiraling is.
Spoiler alert: This post is going to be all about Episode 5 of Jersey Shore Family Vacation, "About Last Night." Although Thursday night's new episode of Jersey Shore Family Vacation was mostly filled with super-awkward Ronnie moments, there was one bright spot amid the potentially relationship-ruining chaos. After his drunken hookup with a random French woman he met at the nightclub ends early thanks to a quick intervention from Pauly D, Ronnie decides to keep the night with his drinking buddy Snooki. While the rest of the house passes out because it's, like, six in the morning, Snooki gets the idea to make another batch of Ron Ron juice and watch the sun rise with the only member of the house still plastered enough to not be asleep: Ronnie. The two make a plan to skip sleeping and just keep getting drunker, dubbing one another spiral-mates and introducing the world to the term spiraling.
While we don't get an official definition for spiraling in the episode, Snooki and Ronnie make the meaning pretty clear through their actions. We can induce that "to spiral" basically means "to drink alcohol throughout the night and into the morning in place of sleeping."
Snooki and Ronnie's spiraling adventure is certainly one for the books. After they down some more Ron Ron juice and watch the sun rise over the pool where they drowned the Sammi doll, they relocate for even more alcohol. At around 10 a.m., they set off for a bar called Oceans, where Snooki immediately floods the patio by spilling a gigantic margarita.
Still spiraling like a fidget spinner, the pair then decide to terrorize another establishment: the Mexican chain bar and grill Señor Frog's. This is where the spiral starts to unravel. Snooki spots a child playing air hockey in the corner, and drunkenly hobbles over to him because her "mom mode" has been activated, according to her.
While Snooki is busy slurring baby-talk at this poor child, Ronnie has entered that terrible "realizing all the terrible things that you just did" stage. He heads off to the bathroom where he weeps on the toilet with the stall door slightly open so that the cameras can catch his tears, as he whispers whatever the opposite of daily affirmations are to himself: "I'm a bad guy... I'm a d*ck."
At this point, it is very clear that the spiral is straightening out. Ronnie and Snooki get in a cab and arrive home at around noon-ish, where their housemates marvel at the disheveled, alcohol-soaked monsters that have replaced their two roommates. Luckily, Snooki and Ronnie get a whole two hours to nap before they have to wake up and start chugging again for the yacht party that Pauly D has lined up for them. Hey, they can sleep once the ten episodes of Jersey Shore Family Vacation are over — for now, they need to keep that spiral spiraling for us fans. Something tells me that this is not the last time we are going to see the cast spiral out this season!