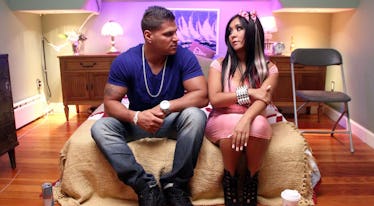 Snooki Revealed How Much The 'Jersey Shore' Cast Was Paid In Season 1 & It's Hilarious
MTV
At the end of 2009, reality television was changed forever when eight guidos and guidettes walked into a beach house on the Jersey Shore. Although Jersey Shore became one of the highest rated shows on the air at the time, its stars were apparently making next to nothing in terms of a salary. In fact, they weren't getting paid in actual money at all! Snooki revealed how much the Jersey Shore cast got paid in Season 1 in a recent interview with InStyle, and it is a lot, lot less than you probably expected.
According to Nicole Polizzi, the artist formerly known as Snooki, there was a massive difference in what the Jersey Shore stars were being paid in the first season compared to the final season... and also now on Jersey Shore Family Vacation. In the first season of the show, Snooki and the gang were not even being paid real money — their compensation for appearing on the show was getting a gift card each week! All of the stars were given $200 gift cards to the Shore Store (the gift shop where they were required to work) each week as payment for Season 1 of Jersey Shore, Snooki revealed:
We would get $200 a week from the Shore Store. I had never gotten that much in a week, like, every single week, because you usually get paid every two weeks. That was crazy for me.
None of the Jersey Shore stars would accept that salary now, but to a 21-year-old Snooki who was not yet famous, it was an exciting payday. She shared that her jobs before becoming a reality star included bussing tables, working at Forever 21, and selling concessions at baseball games.
Of course, after the first season of Jersey Shore became such a huge hit, the cast was no longer just paid in gift cards. All of the cast members were reportedly paid $30,000 per episode in Season 3, and in the final season, they were reportedly making upwards of $150,000 per episode. Considering the fact that they are all reality television legends at this point, they are probably making even more money on Jersey Shore Family Vacation. That is a long way from a couple hundred bucks in Jersey-branded merch.
Nicole Polizzi also said that there were never any differences in the pay between her and her fellow cast members. She said that she probably would have freaked out if she found out that everyone was not being paid the same amount.
Now, the Jersey Shore cast presumably has nothing to worry about financially (well... except for The Situation, that is). The whole cast has cemented their names into reality television royalty, and now they are back to create even more insane moments in Jersey Shore Family Vacation, which premiered last week, nearly a decade after the first season of Jersey Shore premiered.
The only original Jersey Shore cast member who chose not to come back for the reunion party is Sammi "Sweetheart" Giancola, who shared that she wanted to avoid "potentially toxic situations." But her former castmates still managed to bring her on the series in one form, as Pauly D lugged in a life-size doll dressed as Sammi to stay in the house with them. Yeah... that might have reaffirmed Sammi's decision.
But apart from Sammi's absence, everyone is back — and that even includes the controversial, barely there original housemate Angelina. Although she has not appeared in Family Vacation yet, MTV released a clip showing Angelina returning to the house to confront The Situation about calling her a "dirty little hamster" back in Season 2.
Jersey Shore Family Vacation airs Thursday nights on MTV.